In the United States, it is federal government policy that drinking milk is allowed 1,567 times more radioactive beta radiation than drinking water's 3 pCi/l standard. Indeed, the FDA's "Level of Concern" trigger for combined concentrations of Cs-134 and Cs-137 is 10,027 pCi/kg which translates to 3,342 times its equivalent mass in water.
All in all, these latest readings impact the California oranges, dried prunes, almonds and pistachio industries with a combined annual wholesale worth around $4.5 billion annually.
Testing data released by Potrblog August 23 is the first to document Fukushima radiation detected in Missouri beef, an industry that adds $1.5 billion annually to that state's economy according to the Missouri Beef Council. The Show Me State ranks second in the nation with the number of beef cows with 2.161 million. Missouri has 4.45 million total cattle, the sixth most in America spread out over 68,000 farms with an average beef cow herd of 36.
It was on one of these grass-fed cattle farms that Potrblog obtained 2011 and 2012 beef samples to test. Both sets of Missouri beef samples registered hot for Fukushima radiation. The grass-fed beef, Potrblog said, should register lower than corn-fed beef in radiation according to Cold War tests. That said, the 2011 sample tested high in Cesium-137 but, thankfully, the Cs-137 was not detectable in the 2012 sample.
The beef Potrblog had tested for professional gamma spectrometry, Strontium and Plutonium testing was from beef cattle on clay-like fourche silt loam soil on 3 to 8 percent slopes, meaning that the land was well drained and, according to Potrblog, less bio-available for Cesium-137 to soak into the ground and up into the grass. The cattle were watered by well water and not surface sources that could be susceptible to Fukushima fallout in the rain.
Though the Cs-137 disappeared from the 2012 sample, other radionuclides found strongly suggest the continued and increasing presence of Fukushima meltdowns radionuclides. 2012 test of same farm's beef shows presence of Cesium-134, Cerium-143, Neptunium-237, Antimony-124, Cobalt-60, Silver-110m, Actinium-228, Barium-140, Strontium-91 and other radionuclides.


MUTANTS
Fukushima contamination goes beyond nuking the food chain; it is beginning to show signs of species mutation in Japan and very possibly California. Mutations represent a dire threat to humanity, flora, fauna and the environment. Radiation-induced mutations increase generationally beyond the tragic consequences of fatal radiation-induced cancers as shown from studies of the 1986 Chernobyl meltdown and the partial meltdown of the Sodium Reactor Experiment 35 miles northwest of downtown Los Angeles in 1959.
Mutations destroy the very DNA of our world's living things and progressively get worse over successive generations. But unlike air, water and food radiation contamination, mutations can be seen which is most effective in convincing Fukushima meltdown deniers of the breadth of the threat that the unleashed radionuclides pose.
Japan has begun to see mutants in plant and insects. A June 20 post from a Japanese Geiger counter group reported extraordinary findings in tests where silkworms were experimentally hatched in the dirt of a Katsushika garden in a ward of greater Tokyo, home to half a million people. What they got were Godzilla silkworms grown in soil 118 miles from Fukushima Dai-ichi.
Using soil measured at 4,780 Bq/kg in the Tokyo suburb garden, it was not surprising that the silkworms mutated. Nearly 95 percent of the silkworms died in hatching but the 10 percent that survived were 10 times bigger than normal.
Japanese silkworms are hearty creatures with shells so hard, according to the study, that boiling them in hydrochloric acid for five minutes won't faze them, let alone kill them. This indicates that external pollutants can't penetrate a silkworm's shell making them impervious to any mutagenic-causing chemicals. Radiation is a different matter altogether because it can radiate through the shell and transform the silkworms' DNA. This causes mutations.
Just over a week ago in late August, the first peer-reviewed study showing mutations caused by the meltdowns contamination of Fukushima was released by the University of Ryukyus in Japan. Researchers found that the common pale glass blue butterfly captured near the plant had stunted wings, malformed antennae and legs with eyes dented inwards.
While not noted in the press, the volunteers who captured enough of these creatures to have a scientifically-supportable cohort were bravely chasing butterflies in the most radioactive disaster zone on the planet to accomplish this task. These people were and are heroes for exhibiting courage above and beyond the call of most people's duty and, in this case, for the sake of sound science.
Even after that ordeal, more horrors awaited when the team when the insects were transported to a lab at the university on Okinawa Island in the south of Japan far removed from Fukushima. The mutation rate of the butterflies was 12% in the first generation hatched in Okinawa and then 18% in the second generation hatched in the lab. The third generation had an astounding 34% mutation rate.
The mutations may not be confined to Japan.
EnviroReporter.com's reporting that Pacific Ocean-borne radioactive goo from Fukushima could end up in sea spray impacting as far as 200 miles inland with "buckeyballs" was a revelation to many Californians living on the coast [See Beta Watch, February 20, 2012]. Fifteen Bluefin tuna fish caught by sports fishermen in San Diego in August 2011 showed indisputable signs of radiation contamination emanating from the Fukushima meltdowns.
Chantal is one of those folks concerned by Fuku-goo being the reason her sunflowers are mutated this year. Chantal has been a fish wholesaler along the coast north Santa Barbara since 2003 dealing in East Coast lobsters, local rock crab, and local black cod down. "I own a seafood business," Chantal said via email. "I know, not the best, given the current situation but I've done it for 23 years and I'll hang in there [until] we see what happens."
"Evidently the reports on Bluefin have hindered sales at the local fish suppliers," Chantal said in another email. "I've never bought or sold Bluefin,but I talked to some people who do and they are not selling much."
"I would like to know how the local fish, that are not migrating, are reading," Chantal wrote. "This would tell if any radiation is in our waters."
Since 2009 Chantal has maintained a robust garden with her boyfriend in their home three miles from the ocean in Goleta. This year, the sunflowers mutated. "This is [our] third season in this garden," Chantal told EnviroReporter.com. "Never had any other deformities. The growth this year is very very poor."
The California sunflowers are uniformly mutated, some with triple heads growing out of normally one flower, buds emerging out of the back of buds and multiple heads developing upside down underneath the main upper flower head, also mutated.
"[T]hey are quite disturbing," Chantal said. "My boyfriend is the one who does most of the gardening. One evening he picked some sunflowers, and brought them in. On inspection, a cold chill ran down my back as my first thoughts were radiation. I went out to the garden to inspect the other flowers and found most of them deformed. Then I started investigating how radiation affects flowers. Next, I went to EnviroReporter.com and contacted you. I listen to you on Rense, so I knew you would be the right person to share this with."
HOT AEROSOL TRAILS
Southern California and Death Valley aren't the only desert regions experiencing aerosol trails.
Places as arid as Lake Havasu City, Arizona on the California border regularly get 'cloud cover' from vapor trails left by jets according to B.J., a resident of the city of 52,000 on the Colorado famous for its fresh clear air and the London Bridge spanning the Colorado River. The aerosol thick atmosphere that has cut views in the last few years isn't London fog assured B.J. "I have so many chemtrail photos, you would not believe some of them," said B.J in an e-mail. "When people say they don't see them, they might as well say they don't have eyes!"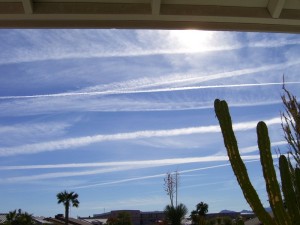 B.J. moved to Lake Havasu in 1979 and became a snowbird from Pennsylvania enjoying Arizona's clean clear air and mild temperatures. She had noticed an occasional aerosol trail in her old photos but the spraying began in earnest in October 2010. "I sat next to the window with my coffee on my day off one morning and saw them going at low altitude going back and forth," B.J. wrote. "I said to myself 'that's those chemtrails people keep talking about'! And I've been taking pictures of them ever since. They even sprayed on Christmas and New Year's Day!"
B.J.'s fascination slowly turned to irritation as the gas descending on the town was affecting her health. Now she's a prisoner in her own home because of the aerosol spraying that continues in the desert where the hazy aerosol slowly descends over the desert limiting visibility in what had just recently been 'clear as a bell' weather under bright blue skies.
Independent investigative journalist Michael J. Murphy of Los Angeles has investigated aerosol trails, more accurately according to Murphy 'chemtrails' in his "What in the World Are They Spraying?" film. Murphy's top-notch journalistic standards and strength of production result in a powerhouse production that begs the question; 'If the spraying was a good thing, why don't they tell us what's in the spray and what's it for?'
Traveling the globe to find answers, the short answer Murphy discovered is aluminum and barium-based aerosols, two toxic heavy metal particularly dangerous when sprayed thousands of feet above millions of people's heads. Murphy's film contains evidence indicating some kind of gigantic weather manipulation is taking place. That would be of small consequence to the millions of farmers suffering through the historic drought of 2012 and who deride the idea that chemtrails are used as a rain enhancer.
Murphy found that chemtrails were dominated by aluminum nanoparticles, perhaps sprayed in some unproven attempt to cool off the planet by reflecting light back into space. This aluminum has been found in the snows of Northern California where there has been intense spraying.
The investigative journalist interviewed Dane Wigington, a solar power expert who owns 20 acres overlooking Mt. Shasta who has watched his view slowly disappear due to the spraying. "You see even to ground level the clarity drops off significantly," Wigington told Murphy while the camera rolls capturing his perspective. "We don't see that except for the days we have these long lingering trails that spread and cover the whole sky."
"You can see these trails dropping vertically like a veil," Wigington continued. "You assume the particulates are descending and we have the tests to prove that we are being inundated with levels of aluminum in particulates that are literally tens of thousands of times what would already be considered high. We're not talking about exposure to a slight percentage higher of these toxic materials. We're talking about quantities, for example, off the side of Mt. Shasta. That's a landmark in California considered to be a pristine water source. A snow sample off the side of Mt. Shasta tested 61,000 parts per billion [of aluminum]."
In the same test, barium registered 83 parts per billion (ppb) and strontium 383 ppb. Wigington tested his own lined pond that was fed by clean well water and the amount of aluminum was up from air deposition by 50,000% in five years.
This is happening in arid environments too. Former Arizona State Senator Karen Johnson said in the film from her Show Low, Arizona home that "The incidence of Alzheimer's has skyrocketed. I think that it has to do with the accumulation of aluminum in the cells."
In the film, Johnson produced a July 21, 2009 Phoenix air quality report showing 39,000 ppb aluminum when it should be 2 ppb as well as having high barium. "There is a mountain of toxic material falling on us," said Johnson. "Period."