State toxics department tests find toxins but don't report results
Recent surface and subsurface tests at the closed Aerojet Chino Hills facility reveal high levels of perchlorate in runoff leading to the Santa Ana River. The toxic rocket fuel oxidizer was also detected in the subsurface water along with two explosive materials, one at extremely high levels.
The April 4, 2017 tests were conducted by a subcontractor for site owner Aerojet Rocketdyne (AR) at the behest of Cal-EPA's Department of Toxic Substances Control (DTSC). Subsurface testing took place in late June 2017.
Perchlorate was found in water above and below Aerojet Chino Hills. Subsurface water also had enormous amounts of radioactive uranium and the explosive RDX but, according to the report, was not connected to any known groundwater aquifer.
That perchlorate, uranium and RDX at excessive levels have again been found at Aerojet Chino Hills in 2017 is not a complete surprise considering the site's decades-long history of munitions testing including the use of depleted uranium munitions. What is surprising is that some of the contamination, the RDX in particular, was found in the Red Water Pond area supposedly remediated of it in 2001 as part of a $46 million cleanup.
DTSC has overseen Aerojet Chino Hills' remediation since 1994, including a comprehensive unearthing of bomb and munitions fragments left at the 800 acre site, 562 of which are owned by Aerojet Rocketdyne with the rest leased. The company previously excavated over 260,000 cubic yards of soil that was re-excavated and re-screened with over 47,000 items and 120,000 pounds of inert fragments recovered and trucked offsite as EnviroReporter.com reported in March 2009.
Then, quietly, DTSC apparently reacted to EnviroReporter.com's comments about the facility's water, had it tested, found radioactive and chemical goo, declared the place safe and told nobody. It is to the department's credit that it had initiated the testing in the first place and for Aerojet Rocketdyne to carry it out professionally. Ignoring what the tests actually found, however, is not to their credit and could have public health and environmental implications, especially if the land, zoned rural residential, is ever developed.
"In response to public comments received as part of DTSC's pubic commenting process on the Phase 1 Corrective Measures Study (CMS) for Management Areas 1 and 2, DTSC sent AR a letter dated December 1, 2016 requesting re-assessing the water quality of surface water at the site," wrote a senior associate and a principal hydrologist for AR-hired Amec Foster Wheeler Environment & Infrastructure, Inc. May 4, 2017. "Surface water sampling occurred on April 4, 2017. DTSC staff Mr. Robert Romero and Ms. Wendy Arano were onsite to oversee sampling activities."
The public comments, which have still not been put online though they inspired these two 2017 AR water studies, were EnviroReporter.com's 2016 comments. Those comments lauded AR's plan to remove explosive material from its property but questioned substantial gaps in remediation in scientifically specific terms as well as matters of policy.
DTSC's Romero did not respond to those 2016 comments nor did he inform EnviroReporter.com or anyone else according to DTSC's Aerojet Chino Hills website, of what Amec Foster Wheeler found. (The 2016 comments are in addition to 2009 EnviroReporter.com comments.) Nor have Romero and DTSC indicated if the remediation being discussed in 2016 ever took place.
Regardless, surface water and subsurface water reports unobtrusively appeared on DTSC's website that EnviroReporter.com discovered on a periodic search of the controversial department's online resources. This comes from years of dealing with this department that has held the media in contempt over the last few years and has been more of a front for polluters as EnviroReporter.com has previously reported in Toxic Department.
Perchlorate in Aerojet Chino Hills surface water surpassed California's "Maximum Contaminant Level" (MCL) for the contaminant in drinking water with a reading of 6.5 parts per billion (ppb). The AR water exceeded the MCL by 8.3% and the state's Public Health Goal by 65 times. That surface water drains into Soquel Canyon Creek.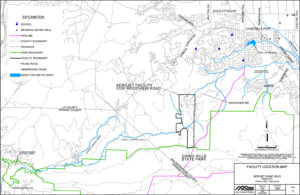 "Several drainage features within the Project Area, including Soquel Canyon Creek, are designated as blue line streams on the U.S. Geological Survey map (Soquel Canyon Creek near the project site is mapped as an intermittent stream)," said the 2015 California Environmental Quality Act Initial Study (CEQA) for Aerojet Chino Hills. "The Santa Ana Regional Water Quality Control Board will also provide project oversight to ensure that wastewater discharge does not contribute polluted runoff."
That perchlorate is pouring down a blue line stream running through Aerojet Chino Hills means that detections of it exceeding its MCL are supposed to be relayed to the local water agency, in this case the very same one mentioned here, the Santa Ana Regional Water Quality Control Board (SARWQCB). EnviroReporter.com could not find any evidence that such a notification was given nor has the public been warned.
Nor is any action likely even though required by regulations. Amec Foster Wheeler's 2017 surface water report for Aerojet Rocketdyne as required by DTSC makes it abundantly clear that the message is dismissive.
"Results of the current (2017) surface water sampling and analysis are generally lower than those previously conducted at the site from 1998 through 2007," Amec Foster Wheeler's report said. "Consistent with the conclusions of the previous surface water quality evaluations, the recent (2017) surface water sampling results indicate that concentrations of COCs (Chemical of Concern) detected in surface water are non-detect, or generally low, and do not pose a threat to human health or the environment under the current site conditions. Based on the results of re-assessing the quality of surface water at the site and comparing 2017 surface water sample results with previous sampling results and conclusions, no additional surface water sampling is warranted."
Factually inaccurate would be a kind way to characterize these conclusions. As shown, perchlorate over the MCL is entering a blue line stream, some of which will end up in Orange County aquifers used to supply drinking water to millions. DTSC should have already informed the SARWQCB of this threat to its water supply.
The Aerojet Rocketdyne subcontractor also said that past surface water tests were acceptable even though EnviroReporter.com, which prompted the 2017 water tests in the first place, examined DTSC-published sampling and corresponding laboratory results which detected uranium in surface water at triple its MCL as reported in 2016's Dead for the Hills.
Uranium was found in underground water samples according to Amec Foster Wheeler's June 31, 2017 subsurface water sampling tests as well "In response to public comments received as part of DTSC's public review and comment process on the Phase 1 Corrective Measures Study."
At the Upper A-12 Test Area, subsurface water tested hot for uranium in "all three monitoring wells (including the duplicate sample) at concentrations between 294 and 1,920 µg/L [micrograms per liter]," according to the Amec Foster Wheeler report. "The highest concentration was detected in near-source area sample A12-MW1."
The highest concentration also tested at a sizzling 65 times uranium's MCL in drinking water. Perchlorate was also found in the same subsurface water at 11 µg/L which is 83 percent over perchlorate's tap water MCL.
The testing site sits about 1,000 feet from the 18th hole of the exclusive Vellano Country Club and the first in a line of multi-million-dollar mansions overlooking the golf course. Luckily, perhaps, Aerojet Chino Hills sits downhill from the gated golf community and the golf course isn't watered by subsurface water.
The Red Water Pond area sits several hundred feet north of A-12 and was the subject of extensive excavation in 2001. That extensive dig was supposed to have solved the contamination problem.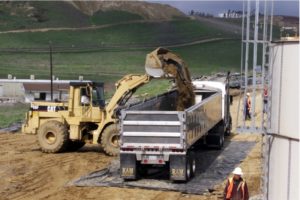 "With operations beginning on February 6, 2001, approximately 6,000 tons of soil were removed from the site designated as the Red Water Pond," a remediation report read and quoted by this 2001 Red Water Pond excavation EnviroReporter.com page. "Testing of excavated soils demonstrated that no residual contamination exists under the Red Water Pond at levels exceeding cleanup criteria. Despite heavy rains prior to and during soil excavation, there was no significant accumulation of ground water found beneath the pond bottom."
Amec Foster Wheeler found more than a "significant accumulation of ground water" in three Red Water Pond area wells June 19, 2017. "The wells contained between 4 and 10 feet of water, which was insufficient for using low-flow purging and sampling methods because of low recharge conditions," the company's subsurface water report said. "Thus, all three wells were bailed dry then allowed to rest for approximately 4 to 5 hours during which water levels rebounded to approximately 50 to 80 percent of the wells original water level."
Finding this water in these wells suggests that Aerojet Chino Hills does indeed sit upon some kind of groundwater otherwise it was likely that they wouldn't have refilled and so quickly. That has significant implications considering what was found in the wells in 2017 even after the "no residual contamination" claim from 2001 – HMX and RDX.
Well MW3 was sampled June 20, 2017 and tested positive for the high explosive chemicals HMX and RDX. HMX has alternately stood for Her Majesty's Explosive, High Melting Explosive and High-velocity Military Explosive. It is one of the most explosive chemicals used in munitions.
RDX is more toxic than HMX and poses a cancer risk according to the State Water Resources Control Board (SWRCB). It was also found in a much higher amount than the HMX findings of 6.4 and 6.5 µg/L.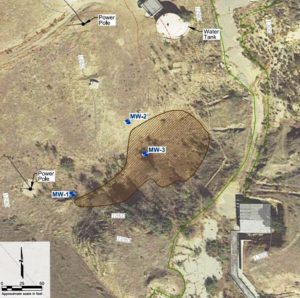 "RDX was detected in both samples at a concentration of 290 µg/L," the subsurface water report said. For RDX in California drinking water and its sources, SWRCB has a Notification Level (NL) in lieu of a MCL. The Aerojet Chino Hills 2017 RDX samples clocked in at 967 times their NL. The SWRCB's theoretical lifetime risk of excess cancer because of this level of RDX is 9.66 excess cancers per 10,000, nearly a thousand times the one in a million goal commonly strove for by the state and federal EPA.
"Hexahydro-1,3,5-trinitro-1,3,5-triazine (RDX) is extensively used in military munitions formulations," said an Oak Ridge National Laboratory report on RDX in 1994. "RDX can enter the aquatic environment through wastewater discharges from the manufacture and loading of RDX, and migration from settling ponds into soil, with subsequent leaching to groundwater."
"RDX exerts its primary toxic effect on the central nervous system (CNS) of humans," the study continued. "Chronic or subchronic exposure of workers to RDX by inhalation is characterized by generalized convulsions headaches, nausea, vomiting, and unconsciousness."
By blessing of geology, Aerojet Chino Hills' subsurface water appears fairly separate from nearby aquifers even with the rapid refiling of the Red Water Pond Area test wells. "The bedrock underlying the Facility is sedimentary rock with low permeability characteristics," said the 2015 CEQA for Aerojet Chino Hills. "These bedrock characteristics cause the majority of the precipitation occurring at the Facility to drain away as surface water runoff rather than infiltrating into the bedrock."
DTSC did more than just ignore the results of the surface and subsurface water tests prompted by EnviroReporter.com's comments. It also didn't address other major areas of in those same comments which noted high perchlorate in Aerojet Chino Hills dirt, with the highest reading topping out at 853 times polluted Santa Susana Field Laboratory's (SSFL) perchlorate background in the hills above the Simi and San Fernando valleys in Southern California.
DTSC decided that the perchlorate-impacted Aerojet dirt required "no further action" according to the October 15, 2008 Corrective Measures Completion Report Addendum (CMS Addendum) on DTSC's website. The CMS Addendum blows off an area with soil testing at 396 times SSFL's perchlorate background. "Perchlorate was detected in five of the eight samples," the report said. "Risk assessment calculations demonstrate that the concentrations of perchlorate detected in the soil samples do not pose a threat to human health."
That is clearly a concern anywhere but especially in increasingly crowded Southern California. Aerojet Chino Hills has luxury living encroaching on its western and northern borders.
"The Vellano golf course is located approximately 500 feet to the west of the project site; however, no residential houses are located within one-quarter mile," CEQA said. "The surrounding areas are either rural/open space (including golf courses and parks) or single-family residences on large suburban lots."
The 2017 subsurface report for DTSC kicks the can down the road without addressing how so much RDX could be in the water after all that excavation of the source contamination in 2001.
"Based on the results of the re-assessment of the quality of subsurface water at the site and comparing 2017 sample results with previous sampling results and conclusions, additional subsurface water sampling is not warranted at this time," said the report. "Options for addressing the COCs [Chemicals of Concern] detected in subsurface water from the Upper A-12 Test Area and former Redwater Pond will be evaluated based on future land use decision for the entire facility."
Future land use for Aerojet Chino Hills remains fuzzy. Planning for the future gets dicey when DTSC alternately responds to contamination concerns by ordering more tests only to turn a blind eye to the results of the expensive tests it ordered.
"Although the site is zoned for Rural Residential uses, the site is currently unused," the Aerojet Chino Hills CEQA said. "All future uses would be done in compliance with local zoning codes and ordinances with approval from the City of Chino Hills."
Given that Governor Jerry Brown's administration is responsible for the disastrous shape DTSC has been in since he took office, the public will have to look elsewhere for protection from Aerojet Chino Hills' insidious toxins.