Troubled Aerojet Rocketdyne Chino Hills cleanup plan ignores radiation and toxins
• High radiation, perchlorate, heavy metals left in water and soil
• Clean up plan removes unexploded munitions but that's about it
• DTSC blows off media, garbles data, discounts dangers, angers community
• Uranium in Aerojet surface water over three times drinking limit
• Drains down Soquel Canyon Creek into Santa Ana River used for drinking
• City of Chino Hills, Aerojet options: homes or open space/cemetery
A multi-year EnviroReporter.com investigation has found that the state's Department of Toxic Substances Control (DTSC) plans to sign off on 'unrestricted use' status at the Aerojet Rocketdyne Chino Hills (Aerojet).
Government restrictions will end after additional munitions remediation even though site surface and subsurface water is highly radioactive. Areas of heavy metal and perchlorate contaminated soil will remain in place according to DTSC and Aerojet documents which say the levels are safe for humans and the environment.
These revelations come as DTSC accepted comments on the latest phase of the Aerojet cleanup that were due June 13. EnviroReporter.com analyzed the documents to be commented on as well as related reports and public involvement communications and submitted this reporter's 2016 comments and questions.
Our input questioned DTSC's science and assumptions that could lead to Aerojet being developed for luxury homes without the department's promised thorough cleanup. The land is bordered by a golf course, rustic ranches and a state park.
This latest round of Aerojet remediation, which DTSC's has overseen since 1994, includes a comprehensive unearthing of more of the bomb and munitions fragments left at the 800 acre site, 562 of which are owned by Aerojet with the rest leased. The company previously excavated over 260,000 cubic yards of soil that was re-excavated and re-screened with over 47,000 items and 120,000 pounds of inert fragments recovered and trucked offsite as EnviroReporter.com reported in March 2009.
Good news
The new work targets Munitions and Explosives of Concern (MEC) and is scheduled to commence in the fall. EnviroReporter.com found no flaws in this part of the Aerojet cleanup. It is unlikely to be disruptive to anyone and there is little chance tainted dirt will escape the dump trucks leaving the property destined for a licensed hazardous waste dump.
"The project includes excavation of approximately 14,600 cubic yards (yd3) of potential MEC-containing soil (13,000 yd3 from the Ordnance Fuze Test Unit/Area West of HEI Pond and 1,600 yd3 from Area 10) and transport to a temporary holding area (Area 1C) located in the central portion of the Facility," according to an October 29, 2015 DTSC report including the latest work. "This would require the use of scrapers, water truck, excavator, and a crawler tractor (bulldozer) over a 16-day period as noted below:"
EnviroReporter.com once again found the removal of this kind of debris laudable and told DTSC so in our June 13 comments. "ER thinks this is a sound idea and will be successfully undertaken much like the well-done work done remediating the OB-OD in 2009."
Bad news
But that's where the good news ends. DTSC has failed to address the high amounts of radiation surface water flowing off the site, all of which goes down a protected stream and into the Santa Ana River which is a drinking water source for millions. The agency has also reneged on the tough cleanup standards that it had promised the community, a decision which could result in higher cancer rates.
DTSC will allow heavy metals and perchlorate to remain that were found to be hundreds of times higher than the background of the same contaminants at the infamously polluted Santa Susana Field Laboratory (SSFL) in eastern Ventura County. DTSC has garbled science and failed to produce the reports it bases its dubious radiation and heavy metal safety claims on.
None of this is surprising. EnviroReporter.com exposed this 'captured by industry' organization awash in incompetence and hostile community relations in Toxic Department in 2012. That revelation, among others, helped lead to a 2013 Consumer Watchdog report and subsequent California State Senate hearings in 2014 that ultimately amounted to nothing.
DTSC's Aerojet Rocketdyne Chino Hills blunders have included failure to properly identify where the site is, trouble understanding what a chemical is, denying there's any groundwater under the property and a series of scientific and mathematical blunders that have even left this reporter scratching his head.
Seven years of analysis, number crunching and calculating the real data has led EnviroReporter.com to conclude that no amount of exposing DTSC's mistakes in Chino Hills will deter the department from soon certifying the property as good to go for residential development. It is anything but according to its own reports. All of this information comes from the reports that DTSC has deigned to share on its website and our analysis backed up on the spot. There's no guesswork here.
The city of Chino Hills and its residents have two choices – ignore the realities of the radiation and chemicals in the hills or lock this polluted property in land covenants that prohibit land development other than using it as a graveyard or a place to hike. Taking on a corrupt state agency and the company that polluted the land in the first place would seem to be a tall order for most communities. Chino Hills, however, seems to be made of sterner stuff.
Pesky perchlorate
The toxic rocket fuel oxidizer perchlorate has been found at levels hundreds of times higher in Aerojet soils than the background of the contaminant at SSFL. That is quite an accomplishment considering SSFL conducted over 30,000 rocket engine tests, many involving this chemical, leaving the place so polluted that it has and will cost hundreds of millions to clean up.
Perchlorate impacts the thyroid and is especially dangerous to pregnant women, infants and children. It can impact a kid's intelligence and damage organs at a human's most important developmental stage. The pollutant has fouled drinking water supplies across Southern California and the nation. Cleaning up just perchlorate pollution will cost billions, an aerospace legacy that outlasted America's most robust days in space.
The highest Aerojet perchlorate soil reading topped out at 853 times SSFL's perchlorate background which was derived from a $41.5 million study of the lab's poisons released in 2012. The perchlorate-impacted Aerojet dirt required "no further action" according to the October 15, 2008 Corrective Measures Completion Report Addendum [CMS Addendum] on DTSC's website.
The same report blows off an area with soil testing at 396 times SSFL's perchlorate background. "Perchlorate was detected in five of the eight samples," the report said. "Risk assessment calculations demonstrate that the concentrations of perchlorate detected in the soil samples do not pose a threat to human health."
DTSC jettisons promised tough cleanup standards
The DTSC-approved report's justification that a "risk assessment" nullifies the high perchlorate shows that this troubled agency has hornswoggled the public by violating its own pledges that any contamination remaining on the site would not give cancer to more than one in a million people. It's a scientific sleight of hand designed to fool most folks and media, a risk-based system of measuring human exposure to radiation favored by the nuclear industry because it is much more lenient. The one in a million risk determination method is based on dose and is much more precise and protective.
The federal Environmental Protection Agency [EPA] relies on this dose-based formula that derives hard numbers on each chemical and radionuclide's concentration that would break individual thresholds, which are usually close to the substances' backgrounds. These near background numbers are called the Preliminary Remediation Goals (PRGs).
DTSC is a California-EPA department and claimed in an October 17, 2000 DTSC report on Aerojet that stated "All contamination exceeding cleanup levels will be removed such that the site-wide carcinogenic risk will be less than 1 x 10(-6) [one in a million]." This is the normal dose-based measurement criteria used by DTSC, Cal-EPA and the federal EPA.
"Risk assessment" results in vastly higher amounts of radiation and chemical contamination than does the one in a million PRG approach. That means more cancers and more fatalities. It also means that millions can be saved in cleanup costs because the polluter doesn't have to clean up as much.
By DTSC reneging on its PRG pledge, vast amounts of contaminated soil will be left at the site as the 2008 CMS Addendum shows. "Arsenic, cadmium, chromium, molybdenum, selenium, and vanadium were detected… at concentrations significantly higher than background levels," the report said, while recommending "no further action" status for the impacted areas.
That DTSC violated its own promise to the community about strict Aerojet cleanup standards in Chino Hills, the kind that would normally allow for unrestricted use including residential housing with gardens, was confirmed in its Community Engagement Plan [CEP] dated September 23, 2015. In it the CEP reprints previous information saying "Cleanup standards were based on radiologic health risk (cancer endpoint) and the final report was submitted to DHS [California Department of Public Health] in July 2003. In September 2004, DTSC concluded its review of a DU [depleted uranium] Health Risk Assessment. Levels of DU at the site in soil, surface water and groundwater were found to be within acceptable human health based levels."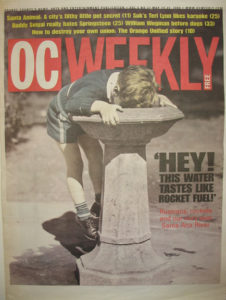 Radiation runaround
EnviroReporter.com questioned those tests in May 1, 2009 comments to DTSC which were responded to over a year later without bothering to inform this reporter that our observations and questions had been finally answered. Indeed, DTSC has never bothered to inform EnviroReporter.com of anything regarding Aerojet despite our media coverage since 2000 and requests to be notified of any site developments.
"We are still working on the response," DTSC project manager for Aerojet Robert Romero wrote May 20, 2009 after we sent our comments in. "I'm coordinating a meeting with my team members on this. I'm hopeful we can issue a response within the next two weeks."
That was the last time EnviroReporter.com ever heard from Romero or the Aerojet DTSC team including any public information officer. In 2014, EnviroReporter.com reader and Chino Hills resident Ashley Kibler contacted us about our comments, now five years old.
"I'm not sure if it would interest you to know, but I found the DTSC response to your comments at the Chino Hills Library," Kibler wrote in an e-mail. "They're in a stapled file in the public records section, in a brown file container. I will be photographing them and reviewing them for my own research. Would you like me to forward the photos of the document to you?"
DTSC's response to EnviroReporter.com's comments, now online, were dated nearly a year after Romero had promised them in two weeks. Passing the buck and mangling the science, the DTSC comments first fobbed off our requests for the DHS depleted uranium studies again trumpeted in the 2015 CEP.
"The cleanup of the DU [Depleted Uranium] test areas was overseen by the Radiologic Health Branch, now part of the Food, Drug and Radiation Safety Division, California Department of Public Health," wrote DTSC in its 2010 response. "The phone number is (916) 327 -****. DTSC has a number of reports relating to the DU cleanup available at the DTSC Cypress office. The complete record is available at the Radiologic Health Branch."
The problem is that there is no evidence that the Radiologic Health Branch has any Aerojet information publicly available. A search for Aerojet on its website yielded zero results, let alone any radiation reports that would back up DTSC's assertions that the site is not impacted by radioactive runoff. Indeed, DTSC is responsible for releasing the site after it is remediated of all its contaminants, including radiation, so to refer a reporter to another agency is either stonewalling or reflects an incompetent overseeing of the entire project. The buck should stop at DTSC when it comes to Aerojet Rocketdyne Chino Hills, but according to DTSC it clearly does not.
Uranium contamination triple state limit for drinking water
DTSC obstruction was accompanied by unsound science in trying to explain the high uranium periodically sloshing off the site. It claimed that "The surface water at the [Soquel Canyon] Creek [Santa Ana River] Tributary is slightly above the MCL [Maximum Contaminant Level]. However, these concentrations were addressed in the Revised Preliminary Endangerment Assessment for Uranium Chemical Toxicity and found to be within acceptable levels."
The 0.0885 milligrams per liter (mg/L) of uranium in Aerojet surface water flowing down Soquel Canyon Creek into the water supplies for millions of people in Orange County translates to 59.8 picocuries per liter (pCi/L) according to the Department of Energy. DTSC incorrectly stated that is 32.4 pCi/L, underestimating the amount of radiation in the water by 46 percent.
Furthermore, California's MCL for uranium in drinking water, including drinking water sources like 'blue line' stream Soquel Canyon Creek, is 20 pCi/L. That means Aerojet surface water is three times the state's Maximum Contaminant Level and a violation of the Clean Water Act that protects 'blue line' streams like Soquel Canyon Creek.
According to the state EPA Office of Environmental Health Hazard Assessment (OEHHA) in determining a Public Health Goal [PHG] for uranium, it says "The resulting PHG of 0.5 ppb (0.43 pCi/L) developed for natural uranium in drinking water is based on a de minimis 10-6 lifetime cancer risk for exposure to ionizing radiation."
That means the 59.8 pCi/L of uranium measure in Aerojet surface water is 139.1 times its California PHG. Statistically speaking, instead of one in a million contracting fatal cancer from uranium, 139 people would be closer to the number. DTSC's long forgotten pledge to protect the populace and environment from this has been lost in shoddy science foisted on an unsuspecting public as "within acceptable levels."
Aerojet' subsurface water is even hotter. Its reported 0.404 mg/L equates to 147.8 pCi/L according to DTSC in its 2010 response to EnviroReporter.com comments. That works out to 7.4 times California's MCL for uranium.
It's not like DTSC doesn't know the importance of these findings. It just doesn't tie together where all this goo goes and the huge significance of that. Either out of sloth or deliberate cover-up, these radiation readings are ignored and dismissed by the department. Perhaps DTSC didn't think anyone would notice or care.
A California Environmental Quality Act Initial Study created and signed by Romero February 16, 2016 shows that DTSC should well know the significance of its liquid uranium problem. Nearly all of it drains down Soquel Canyon Creek.
"The bedrock underlying the Facility is sedimentary rock with low permeability characteristics," Romero's report read. "These bedrock characteristics cause the majority of the precipitation occurring at the Facility to drain away as surface water runoff rather than infiltrating into the bedrock."
That goo's got to go somewhere. "Soquel Canyon Creek is the main drainage feature within the project area and is mapped within the project site as an intermittent stream," the report said. "Several drainage features within the Project Area, including Soquel Canyon Creek, are designated as blue line streams on the U.S. Geological Survey map (Soquel Canyon Creek near the project site is mapped as an intermittent stream)."
Even with this shocking level of radioactivity in a protected drainage, DTSC nevertheless proclaimed in its 2010 response to our observations and queries, "Uranium readings were not missed." They may not have been missed, but actually measuring and interpreting them correctly did not happen.
Mangling the numbers wasn't the only worrisome aspect to DTSC's tardy 2010 responses. The department continued its tradition on not seeming to know where the site is or what it sits on top of. We chided it only half-jokingly in July 2009 in Does DTSC know where Aerojet Chino Hills is? because it had placed the facility's location in the middle of a Chino Hills golf course.
EnviroReporter.com was also concerned that site contaminants threatened the groundwater. DTSC's response, though typically counterintuitive and ridiculous, was nevertheless surprising. "Groundwater under the site is not designated as part of the regional groundwater basin," DTSC said in 2010. "Therefore, the water quality objectives in the Santa Ana River Basin Plan, prepared by the Santa Ana Regional Water Quality Control Board, do not apply to groundwater under the Aerojet site."
Apparently DTSC failed to check that unlikely notion with the regional water quality control board which has a Santa Ana Hydrologic Basin Planning Area index of maps showing that there is groundwater mapped under the site. Even DTSC's own maps of the facility include groundwater wells in an adjoining privately owned Hokum ranch property still undergoing cleanup from munitions contamination.
The intervening years have only emboldened DTSC's proclamations of an Aerojet land free and nearly clear for unrestricted use. The 2015 DTSC Community Engagement Plan provides some prime examples of more regulator snookery.
"Aerojet Rocketdyne performed a complete facility investigation, taking more than 2,200 soil and water samples," the CEP accurately reported before inaccurately stating "Sampling results showed there were no levels of chemicals posing risk to human health or the environment in surface waters inside the facility or migrating beyond the facility boundaries."
Perhaps DTSC doesn't realize that the extremely high uranium in Aerojet's surface and subsurface waters is a chemical as well as a radiation-emitting substance. Uranium is a chemical. As Byzantine as DTSC's misstatements can be, this one in particular is clearly false.
Later in the CEP, DTSC stated that "Additionally, Aerojet Rocketdyne completed a human health and environmental assessment, or Preliminary Endangerment Assessment, which determined there were no residual levels of uranium which could pose toxicity risk to human health or the environment. DTSC approved the Preliminary Endangerment Assessment in October 2004."
This is false as our analysis shows. The so-called "residual levels of uranium" include a trebling of the MCL of uranium in Aerojet surface water impacting a drinking water source and subsurface water over seven times the drinking water limit.
Fine print fudges on full cleanup
DTSC also fails the community in the CEP in more obvious ways. "The Chino Hills Community Engagement Website, created and maintained by Aerojet Rocketdyne, and developed as part of this CEP, can be found at www.rocket.com/chino."
No such website exists. And beyond the bad science and community runaround is the absurd. Under the CEP's "Future Site Use" section is this confusing scenario:
"Reuse alternatives would likely consider former land uses on the site and clean up. For example, outlying buffer lands and administrative areas where ordnance activities did not occur may be identified for potential residential reuse. The small canyons that served as testing areas could be excavated to bedrock and backfilled with verified clean fill, thereby providing locations to place the roads that would serve residential reuse."
In other words, DTSC is saying that even after the cleanup, large tracts of Aerojet land won't be fit for residential development. This begs the question – will DTSC and Aerojet provide future owners a "Do NOT Build Here" map? And why would any prospective proprietors want or have to excavate former bomb and DU projectile testing areas to bedrock and backfill them if the place has been totally remediated and fit for unrestricted use?
Perhaps to add levity to this string of uncertainties, DTSC recommends building roads on canyons of fill regardless of drainage or soil settling issues. All of this nonsense is in one paragraph on the most important part of Aerojet Rocketdyne Chino Hills issue – the future.
Showdown in Chino Hills
The public's last chance to comment to the DTSC on one of the last iterations of the ongoing cleanup passed June 13. Even with an added two week comment period extension, some longtime community activists were unclear as to just how high the stakes are.
A DTSC Aerojet community meeting April 11 did little but generate a local paper's slant reflected in its headline that the Aerojet meeting revisits old fears. The intimation was that the only problem with the place was people's perceptions of it, not the depleted uranium, unexploded munitions and gooey uranium. Not everybody was fooled.
"We've really been intrigued with your reports regarding Aerojet," wrote Chrisanne Goodwin to EnviroReporter.com May 24. Goodwin's a board member of Hope for the Hills, a Chino Hills community group which defeated efforts to run high tension wires through the city in 2013. "We are concerned about the DTSC cleanup efforts at the Aerojet facility in Chino Hills."
Goodwin has good reason to be concerned considering the rotten reputation the department has earned for itself in the area. A June 12 San Bernardino County Sun piece called Department of Toxic Substances Control flunks community relations exposed just how mistrusted DTSC is in the area. "There is such a deep-seated distrust of DTSC at this point, it's hard to believe the agency could do anything to make it worse," the science and nature news article read. "But it has."
Even before this EnviroReporter.com exposé hits the virtual newspaper racks, a deep-seated distrust of DTSC over Aerojet Rocketdyne Chino Hills has been forming. Longtime community activists like Hope for the Hills member Dana J. Lamb, who submitted comments before the deadline, aren't buying DTSC's line that all's okay at Aerojet.
"What has emerged recently is that in an effort to profit from the land that Aerojet littered with radioactive and poisonous munitions, new facts are emerging about the questionable criteria of their cleanup procedures and its impact on our land and water tables," Lamb wrote to DTSC June 12 and subsequently published on the Chino Hills Aerojet Facebook page. "Even more alarming is the number of families who have lost family members to cancer and moved out of the area to avoid losing more of their loved ones. I am writing you to let you know that I am a board member of a community watchdog organization that is researching every aspect of this area going back to the 1950's."
The strength and clout of the Chino Hills community has grown exponentially since EnviroReporter.com began covering Aerojet 16 years ago. It will need every ounce of energy and pound of clout to roll back the dictums of DTSC. Even considering the formidable odds, the people of Chino Hills just might have the moxie to succeed.
Photographs courtesy of David Cortes 2009