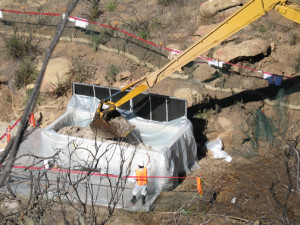 The chips sure got cashed in before the all the truckin' from Rocketdyne through the San Fernando Valley was fully tallied. Turns out that Boeing, without environmental permits, will excavate, remove and transport off nearly two and half times more truckloads of contaminated dirt than earlier calculated.
Today's earlier post, "Goo To Go" may have seemed shocking:
There is an estimated one million cubic yards of contaminated soil on the site, which suffered the worst meltdown in American history in 1959. Over 74,000 truckloads of toxic cargo could rumble through the San Fernando Valley over the lifetime of the cleanup, scheduled for completion in 2017.
But something just didn't seem to add up. Boeing says that "over a 100" truckloads of toxic turf from Outfalls 008 and 009 at the Santa Susana Field Laboratory have to be dug up and hauled off site before the rains come. And it needs to do this without discretionary permits from the county of Ventura that would have made sure stringent environmental guidelines are followed when excavating and transporting the gooey dirt, contaminated with chromium, dioxins, mercury, lead and who knows what else, off the former rocket testing and experimental nuclear testing facility.
But then, consider the source. The polluters made that estimation. And it turns out that Boeing's numbers were all wrong. And not just the numbers. Detailing what this just-approved cleanup won't have in the way of environmental protections somehow went AWOL too. A closer examination reveals a significantly different idea of the amount of gooey dirt that will be trucked through the San Fernando Valley.
In October 2007, the Department of Toxic Substances Control published "DTSC Issues Order to Boeing and NASA to Take Action on Sage Ranch" which detailed a cleanup of an area adjacent the 2,850-acre lab near a Boy Scout camp. Rocketdyne activists Christina Walsh and Bill Bowling, who run the Aerospace Museum of Cancer in Chatsworth, alerted DTSC to all manner of nasty stuff in the area. (I wrote about it for the Ventura County Reporter in a story called "Cleaning Up Rocketdyne" in November 2007)
The fact sheet says that 8,500 cubic yards of material would be removed taking 764 truckloads to do it. Using those numbers to recalculate just how many truckloads "over a 100" it will take to truck off the nasty goo from Outfalls 008 and 009, the answer is an estimated 2,700 cubic yards of dirt that will take 243 truckloads!
According to Norm Riley, DTSC's project director for the lab cleanup, potentially upwards of one to two million cubic yards may have to be remediated on the huge and polluted Rocketdyne site, much of it trucked off.
Utilizing these new DTSC numbers, one million cubic yards would take 89,847 truckloads. Two million cubic yards would require 179,694 truckloads.
With excavation scheduled for about five years, that would translate to 17,969 truckloads of dirty dirt per year for one million cubic yards, or over 49 trucks per day, seven days a week.
Now why Boeing would mischaracterize the number of trucks that will be heading down into the San Fernando Valley with no assurance of the environmental protections that DTSC used at Sage Ranch? And why would Boeing not volunteer to have mandatory environmental protections during this massive operation?
DTSC took a number of measures to prevent the inadvertent dispersion of goo when remediating Sage Ranch. The fact sheet delineates them:
Temporary fencing with windscreens will be installed for security and dust control

All vehicles will maintain slow speeds while on the property

Spraying of work areas with clean water to prevent dust

Securing trucks with covers before they leave the site

Truck tires entering and exiting the site will be brushed to remove soils and debris

Monitoring the air at the site to ensure the amount of dust stays at safe levels

DTSC will provide oversight of the cleanup activities
Boeing is required to do none of this. In fact, it isn't required to even notify the County of Los Angeles that it will be hauling 243 truckloads of toxic dirt through the west San Fernando Valley to who knows where.
What a long strange trip that's going to be.
25 Years of Award-Winning SSFL/Rocketdyne Reporting
1998 – 2023