Beta radiation is of particular concern because of its manmade origins. Lethal radionuclides like cesium-134, cesium-137, strontium-90 and plutonium 239-240 have been released in unrelenting massive quantities since the triple meltdowns began. Without the EPA beta stations functioning, the country is blind to the threat because it can't detect it.
It isn't wise to be blind when on Beta Watch. Yet that is exactly what America is unless the information is being cut off at the source perhaps because it shows such extremes. EPA did not respond to past requests for comment on the inoperative radiation stations.
Even with a fraction of RadNet working, it still is invaluable and certainly more accurate and functional as a nationwide radiation monitoring system than any for-profit private systems available. An EnviroReporter.com analysis reveals that there have been massive beta radiation surges in cities from coast to coast over the last few months.
To determine what exactly a radiation surge is depends on a variety of factors. The most common tripwire is the multiple of three times background for the alert level. This yields a value of approximately 100 CPM on the detector determining when the readings have gone into 'alert' level.
The Inspector Alert sets its alarm default to 100 CPM as do several private radiation networks based in the United States. The presumption is 100 CPM is 2.5 times a typical background of 40 CPM. This alert level is conservative because much of the nation has much lower background levels. Before Fukushima, for example, San Francisco's background was usually between 12 to 15 CPM.
Through thousands of interior and exterior tests, Radiation Station Santa Monica's background was determined to be between 42 to 46 CPM outside and 35 to 40 CPM inside. The U.S. Federal Emergency Management Agency in 2007 had a "Recommended Decontamination Decision Criteria for Individuals When Using Selected Portable Instrument/Detector Combinations" of 300 CPM. This high standard, ignored by the actual people in the field or laboratory using these nuclear radiation monitors, is triple what triggers a Haz-Mat emergency for the CHP.
Readings all over the country have far exceeded these standards. Vast swaths of America have become hot zones.
California has been hit especially hard with Fresno peaking off the charts over 1,000 CPM last November. Since hitting 950 CPM on the night of December 17 through 18, the town adjacent America's most productive farmland in the San Joaquin Valley settled down to a still excessive 250 CPM January 11. At Bakersfield a hundred miles to the southeast, the RadNet monitor blew out after hitting 750 CPM September 15.
Southern California has not been immune to the higher readings. Normally registering near background, Los Angeles hit 350 CPM October 27 and topped off at 190 CPM January 4 with all readings in between jumping around significantly above background. This belies the assumption that precipitation is needed to bring radiation to ground. Currently, however, L.A.'s readings seem to be the result of a malfunctioning detector.
Inland 54 miles, the city of Riverside hit 460 CPM January 10. Down the coast, San Diego had a beta radiation concentration over 350 CPM just before Christmas.
Moving into even drier climes, Phoenix, Arizona saw 650 CPM January 7 and Albuquerque, New Mexico blew through 1,000 CPM three days before New Year's Eve. Four days before its beta monitoring ceased working December 9, Denver charged up over 1,000 CPM. Salt Lake City, Utah topped off at 330 CPM November 18.
Texas has consistently had some of the highest radiation readings in the country. Fort Worth endured nearly five times the hazardous alert level with a December 18 high of 460 CPM. Dallas registered 300 CPM December 21 and Amarillo blew through 1,000 CPM a week later. Recent high detections in the Texas Panhandle may be partly a result of the WIPP nuclear waste dump fire in upwind New Mexico.
High RadNet beta readings were felt in the Midwest as well. St. Paul, Minnesota saw 320 CPM January 12 and Madison, Wisconsin was hit with 300 CPM the day before. Grand Rapids, Michigan had over double the alert level January 10 with 225 counts per minute after hitting 310 CPM December 4.
Not even the South escaped the radiation brought to it from Fukushima on the jet stream in addition to recirculated fallout from re-suspended dust and sea spray. Charleston, West Virginia, pre-chemical catastrophe, was already having a bad day December 29 with a beta blast humming in at 440 CPM. Tallahassee, Florida posted a huge 715 CPM January 23.
There is hope, however, in dealing with the threat. EnviroReporter.com's advice on how to mitigate against excessive radiation includes how to eat and drink including the most comprehensive online Radiation Food Lab in the world. Common sense dictates that children and pregnant women stay out of radiation rains that exceed 100 CPM.
The Glowden State
Californians also have access to this online news organization's affiliated Radiation Stations in East Los Angeles, Glendale, Hemet, Pacifica, Santa Monica, Simi Valley and Ventura California. Radiation Station Pacifica California has precipitated over 770,000 YouTube views alone since December 24 when station operator David Crain uploaded Fukushima radiation hits San Francisco? (Dec 2013).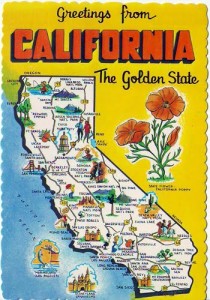 Despite several technical errors, the retired Yahoo executive and restaurateur managed to capture what seems to be the glow of the inexorable flow of the Sea of Fuku Goo sloshing down the coast of the Golden State. Crain's viral video, and subsequent tests by the surfer and others who descended on the coast, suggest that California's nickname should be the Glowden State.
"Not good news!" Crain wrote EnviroReporter.com and others via email December 21. "I have been taking readings around Pacifica, in airplanes, Colorado trips, etc. for over two years now. Thursday I went to a beach I frequent."
Crain was visiting Surfer's Beach which is several miles south of Pacifica which is down the coast from San Francisco. The popular Half Moon Bay beach is hundreds of miles south of where the Kuroshio Current hits North America and splits into two currents that run north to the Gulf of Alaska and south along the Northwest coast down along to as far as Baja California, Mexico.
"The background radiation counts (CPM) average 25-35 around Pacifica," Crain continued. "I have fewer readings from Surfer's Beach but they were close to levels in Pacifica. As I stepped out on the sand about 25 yards from the water's edge, my alarm on the detector started to beep. I have never had my detector go into alarm before. I went back Friday morning and took more readings. See below. The alarm is set to 99 CPM, roughly x 3 over background. A HazMat situation is assumed present when counts go x 3 and higher."
Crain's nuclear radiation monitor topped out at 156 CPM. The subsequent explosion of his YouTube video brought on a tide of other people seeing if they could detect radiation at the water's edge. Another would-be radiation investigator descended on Esplanade beach in Pacifica January 2 and proceeded to lay his Geiger counter on the same kind of black sand that seemed to be the source of radiation that Crain had found.
"This area is at Esplanade beach, in North Pacifica, appx. 150-200 yards North of stairs," wrote YouTube poster FrostyFjords wrote in his video description. "Readings were well above 800 counts per minute! Yikes!"
Yikes indeed. Instead of testing for Fukushima radiation, Crain and FrostyFjords were testing sand that appears to have been radiating natural radium and thorium according to a subsequent test of the Surfer's Beach sand by Inspector Alert's manufacturer, International Medcom CEO Dan Sythe. Crain was using an Inspector Alert in his viral video.
He was also using incorrectly if he wanted to detect possible Fukushima radiation in the Pacific Ocean. Crain should have been taking measurements of the water, not the sand. In addition, he should have been establishing a database of Pacific water readings to help confirm a range of normal background readings ever since he first contacted EnviroReporter.com about establishing a radiation station May 6, 2012.
It could be argued on Crain's behalf that testing the ocean water isn't as easy as it seems because water is a nature block of ionizing radiation resulting in sometimes skewered readings that are too low. Filtering the water is one way around this problem. Regardless, the huge Death Valley radiation rain detections demonstrated that testing water can yield some spectacular results.
YouTube poster FrostyFjords also is shown committing a serious error by putting his Geiger counter directly on the radioactive sand. This can contaminate a nuclear radiation monitor rendering it useless.
Another way to assess sea water was explained in the February 20, 2012 EnviroReporter.com feature exposé Beta Watch. The report documented several British radiation surveys that gauged radioactivity in the Irish Sea mist floating up to 124 miles inland in Wales. In one study, muslin fabric was stretched on frames at various distances from the seashore to capture radioactive spray.
Shaky Science Pushback
Perhaps just as disturbing, the government and a hapless media unfamiliar with radiation science are attempting to fob off the latest bad radiation news as anything but something caused by Fukushima. In response to the Crain video's viral spread, the California Department of Public Health (CDPH) rose up to refute the Fukushima connection before even testing the beach.
"The Department recently responded to reports of elevated radioactivity readings on California's beaches in the vicinity of Half Moon Bay, south along the coast from San Francisco," CDPH said in a statement. "Preliminary data compiled by the Department indicates the elevated radioactivity is due to naturally occurring radioactive materials (NORM), not Fukushima related activities."
Perhaps the CDPH was measuring the same thorium and radium-rich sand Crain was. If so, it would have made the same mistake not seeing the ocean for the waves. It would also fit in to calming concerned communities along the coast south of San Francisco.
Keeping people calm about radiation readings taken as plain as day and shown on YouTube to hundreds of thousands isn't easy. But with the huge stakes at play with currents contaminated with Fukushima radiation flowing down the coast, government agencies are going out of their way to help propagandize their way out of the obvious.
However the radioactivity arrived on the beach that Crain has been monitoring for over two years, one thing is for certain, much of the nuclear industry, state and federal government agencies, academia and media have been brought together to cast doubt on massive detections of radiation as have been coming from Japan.
A Harvard presentation by Kenji Tateiwa, manager of the Nuclear Power Programs at the Washington DC office of Tokyo Electric Power Company (TEPCO), revealed as much in a presentation December 3, 2013 in Cambridge.
Entitled Fukushima Nuclear Accident and Roadmap for Decommissioning ~ A TEPCO Nuclear Engineer's Perspective, the report delineates "TEPCO's Post-Accident Activities in the U.S." The goal, according to the presentation, is to be "Committed to disseminating lessons learned globally and working together to make nuclear power plants safer."
Distrusted by the Japanese people and its own government which stepped in to assume 'control' at the stricken plant last year, TEPCO's plan to handle the American people is far reaching and unprecedented.
Joining in this effort are state and federal entities like CDPH, Department of Energy, Nuclear Regulatory Commission and even the EPA. Nuclear powerhouses Exelon, Westinghouse and Diablo Canyon nuclear power-plant owner Pacific Gas and Electric are also spreading the TEPCO word according to Tateiwa. Even Harvard, MIT and the National Academy of Sciences have united in "disseminating lessons" about the meltdowns.