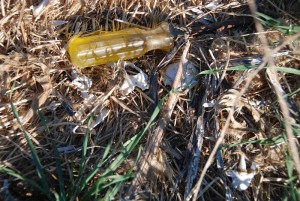 "As I walked up to the tanks I felt like I was crushing snails in the grass and as I looked closer it was literally hundreds of animal bones from the unlucky critters who drank the water from the old trough," says "Wild Bill" Bowling, a Radiation Ranger and a leading Rocketdyne cleanup activist. Bowling founded the Aerospace Contamination Museum of Education and has been fighting for cleanup of SSFL for nearly a decade.
"It was macabre walking on all these bones crunching under my boots," says Bowling. "But it wasn't so creepy that I didn't see what whoever transported these giant tanks also drained them at the well. That someone, most likely from the lab since there is no other plausible explanation, would dump these massive tanks here defies belief but there they are corroding away on land that is supposed to be used for hikers and bikers as open space."
EnviroReporter.com has verified Bowling's photographs of Runkle Canyon's windmill well to be authentic. Galleries of the well in 2009 and then again in 2011 show that KB Home has done nothing to remove these dangerous structures from its property which is in violation of Simi Valley dumping ordnances.


"Something seemed wrong the first time I saw them. As I looked at the tanks closer I noticed a hose system attached in a very crude way and realized that these were designed to drain into the windmill well, injection style," Bowling tells EnviroReporter.com. "They even went so far as to put 2 x 4's under the tank so that a couple of workers could tilt the tank to help with the gravitational flow into in the earth via this old windmill that looks out of the Old West."
The tanks and corroded barrels look vintage Rocketdyne, however. With the lab as a next door neighbor, the most likely suspect for the dumping of the Cold War-era debris and contaminants on the well that watered countless cattle is SSFL.
Indeed, EnviroReporter.com and Bowling's site RocketdyneArchives.com both have photos of tanks at Rocketdyne that are nearly identical with the ones sitting haphazard on rotting planks at Runkle Canyon's windmill well. This bottom center photo looks like the big tank and this top middle photo looks like the smaller of the oversized tanks. Image 9 and Image 17 look like they could be either tank and the fourth from bottom photo called "Removal of Radioactive Waste UST (Underground Storage Tank) of Building 4020" looks like the smaller Runkle windmill tank.
Barrels found at the windmill well are identical to the ones in the photo in the third row, far right. Thousands of barrels of radioactive and chemically-contaminated goo were chucked into Area IV's sodium fuel pit where in a small sea of radioactive goo, workers would draw straws to see who would be able to shoot a rifle at the barrels which would explode when shot releasing their extremely toxic radioactive contents into the air.


Before Bowling learned the dirty secrets of Runkle Canyon's windmill well firsthand, he knew of the place as "Offsite Well #21" or OS-21 from reports on offsite contamination generated by Boeing subcontractors. Arcadia, California-based MWH environmental engineers tested OS-21 and found it to be positive for TCE in a December 2007 report prepared for Boeing (10.57 MB; Figure 3.1, Page 184/199).
It was an odd place to find the carcinogenic rocket engine and hardware solvent since most of the intense use of the sickly-sweet smelling goo took place further east and north at SSFL at rocket test stands in Areas I, II and III. A map of Area IV TCE (4th row down, middle) does reveal, however, contamination in that part of the lab which housed experimental nuclear reactors, a Radioactive Material Handling Facility and a Hot Lab where spent fuel rods from nuclear reactors around the country were cut apart.
Before becoming a Radiation Ranger, Bowling had warned the Simi Valley City Council about the well and, for once, city officials seemed to take residents seriously about pollution from Rocketdyne oozing off the site onto and under Runkle Canyon.
"This windmill well could potentially draw the contamination offsite," Bowling told the council at a special Runkle Canyon public meeting in Simi Valley City Council chambers November 17, 2008.
Bowling described how Boeing and land lessor NASA had turned off their groundwater remediation systems to clean the groundwater of TCE back in 2000. That "air-stripping" carbonated system cleaned about 10 gallons of the volatile organic compound from groundwater each year.


Over 30,000 rocket engine tests took place at SSFL during the go-go years of the Cold War leaving at least 530,000 gallons of the goo in the groundwater. The disconnected system would have taken 53,000 years to complete its job.
For once, the city council seemed to listen and take the stark reality of having one of the most polluted places in Southern California bordering the city.
"Mr. Mayor, maybe we could ask staff, I don't know, where the windmill is," said Councilmember Glen Becerra after Bowling's comment. "I'm sure they could let us know. Why couldn't we ask staff to contact KB and ask them to turn it off? You could disconnect the pump from the windmill itself so it's not pumping any water unless they are using it up there and I highly doubt they are using it up there so…"
"We could do it," now-former Mayor Paul Miller responded. "We'll have staff check it out."
Clearly no city staff checked it out or they would have noticed, among other things, that the giant tanks and dozens of decaying barrels in and of themselves violate city dumping laws and would certainly pose a hazard to the people using the open space for recreational activities.
That wasn't the case when USEPA was granted access to an offsite well on the Brandeis-Bardin property. There, at OS-10, the agency detected beta radiation in the well water at nearly three times its MCL for drinking water. Total adjusted gross alpha radiation activity was 8.61 times its MCL which is even more troubling: alpha radiation is up to 60 to 1,000 times more dangerous than beta or gamma radiation because of the harm it causes upon ingestion or inhalation.
SEE GALLERY of May 17, 2012 SSFL Open House with EPA posters showing high strontium-90 adjacent Runkle Canyon and high alpha radiation in Brandeis-Bardin wells
These astronomically high radiation readings on Brandeis-Bardin come from a well over two miles from Area IV. Runkle Canyon's windmill well is just a half mile from the polluted lab. Yet even with the importance of testing that well, KB Home's lawyers have given USEPA the "runaround" according to Rev. Southwick.


"The USEPA folks at the May 17 SSFL Open House told me KB Home said there was no reason, or evidence, that would make them allow access," says Rev. Southwick. "They told the government to take a hike but certainly not on Runkle Canyon. It's clear they have something in and around the well to hide and thanks to Wild Bill, now we know what – a possible nuclear and chemical dump by and in the windmill which sends its poisons downhill into Ahmanson Ranch to inflict unknowing visitors to that park who are unwittingly exposed to Rocketdyne toxins in the stream water."
Ahmanson Ranch's streams form the headwaters of Las Virgenes Creek, also protected by the Clean Water Act. This reporter has personally seen and photographed the gooey waters of Ahmanson Ranch careful to avoid skin contact. Other visitors to the park that day in 2005 didn't show the same caution even allowing children to frolic in the cooling waters on a hot summer day. They didn't know any better as no signage explains what the gooey waters contain or if they are contaminated by upstream pollution.
Simi Valley planning staff also failed to enforce rules requiring Runkle Canyon's developer to adhere to Section 303 (d) of the Clean Water Act.
In a July 22, 2003 letter to the city's John F. Fields acquired by EnviroReporter.com, the California Regional Water Quality Control Board, Los Angeles Region (LARWQCB) states that "The project site lies in the Calleguas watershed that was listed as being impaired."
"Constituents causing impairment in the Calleguas watershed include pesticides, metals, nitrogen, sedimentation, algae, salts and coliform," LARWQCB associate geologist Elizabeth Erickson wrote. "Our review of your documentation shows that it does not include information on how this project will change the loading of these pollutants into the watershed. Please provide the following additional information for both the construction and operational phases of the project."
The city of Simi Valley failed to respond. LARWQCB sent another letter to the city March 16, 2004 this time addressed to Adam Keller. Again, the city did not bother to respond.
Can a municipality simply ignore a state agency's request for a construction project to follow the Clean Water Act? Apparently so.
"I can tell you I think we probably never received any response," said L.B. Nye in a voicemail to EnviroReporter.com January 19, 2011. "We don't often write letters in response to CEQA documents because we don't have the statute to do so. We do sometimes when it's important enough. And probably we didn't receive a response to this letter. They probably, if they responded, incorporated the concerns in their next draft of the EIR."
Nye correctly predicted that the developer, Runkle Canyon LLC, which was sold by original developer Peter Kiesecker GreenPark Runkle to KB Home in 2006, would include an explanation in the EIR explaining why it hadn't tested Runkle Creek for these harmful constituents.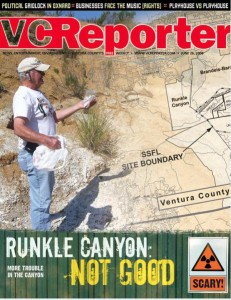 "The Runkle Canyon project will not result in significant water quality impacts; including any substantial increase in loading of the pollutant constituents of concern for the Calleguas Creek Watershed identified in this letter," the EIR contended with no evidence to back it up. "Lastly, because the project will contribute a minimal impact on surface water quality and because of the lack of reliable information on which to base any quantified load estimates, no estimates are provided."
In other words, because Runkle Canyon LLC didn't bother to conduct any creek water tests, it wouldn't provide any of the information that LARWQCB demanded twice.
Perhaps as disingenuous is EIR's notion that rain water in Runkle Canyon has little opportunity to soak into the soil therefore the runoff would be the same as future runoff in the canyon once it's filled with impermeable surfaces like asphalt and concrete.
"[T]he proposed development is located in the moderately-sloping hillside regions of the site that under existing conditions promotes storm runoff to travel down the existing hillsides, limiting opportunites for percolation," the EIR claims with no proof. "Project development will continue to travel down the existing hillsides, limiting opportunities for percolation."
Even a cursory look at Runkle Canyon photographs clearly shows that the verdant canyon most certainly does soak up water. Combined with enormous catch basins and other water features, KB Home will certainly change water runoff both in quantity and quality despite protestations that Runkle Canyon's grasslands are essentially the same as concrete and asphalt sidewalks, driveways and roadways.