The October moon rose over the Funeral Mountains and shed its ghostly light upon Darkness. She was perched on a sun burnt spit of land above the salt pan, a dark angel ready for flight. Her black wings cast a long shadow on the tortured earth below, as did the two high ponytails of ebony hair streaked with crimson.
"The moon is almost full and midnight approaches," she intoned as the wind blew through her ragged dark feathers on the Dúath of Darkness. "Let's go down, even lower."
The Goth goddess pointed at an eerie expanse of fractured salt that had been gnarled into hexagon ridges by Death Valley's wicked weather. She stood over six feet in her black patent leather platform boots, spider web stockings creeping up to a lace and velvet black bodice with plunging neckline.
A cross dangled over Darkness' pale décolletage that glowed in the moonlight. Her face was doll-like, with black lips and alabaster skin. Darkness was drop dead gorgeous; the ghoul of my dreams.
"Come," she beckoned. "Come with me to bottom of time where we can see forever."
I was doomed. Done, baked, cooked. Deep-six sexy, she slays me. When those black wings hover over me and she whispers incantations in my ear, I'm a goner. Darkness is hot as Hell.
Darkness, like all of Denise Anne's 24 (and counting) personages, comes with multiple music soundtracks that are imbued with her personality and spirit. To say that Denise Anne's creations are extravagantly produced is an understatement. Music plays a key role in the mode and modulation of her mischief.
The Darkness experience includes incredible dirges like Seraphim Shock's "Little Gothic" and Tristania's "Sequel of Decay." Two of my favorites are Type O Negative's "Love You to Death" and, of course, "Everyday is Halloween" by Ministry.
It may seem that it is Halloween everyday with Denise Anne but it is far more, and more far out, than that. This performance artist's theatrical background, and richly creative mind and soul, breathe life into these alluring vixens. Soon, she will debut this bounty of characters in graphic novel and comic form with stories that are out of this world.
The gals go wherever Denise Anne goes, but in a 'Bad Girls Unplugged' sort of way. If we were to bring along the costumery, makeup and accessories, it would take a twenty-mule team like the ones that hauled borax 165 miles out of Death Valley to the desert town of Mojave. It takes that much to be that bad.
Darkness' opposite, D'Light the Love Bug, also has wings which are as pink and inviting as this butterfly is. Dusty has all the gear you'd expect from a construction gal including a loaded toolbelt, hard hat and orange vest. Standing well over six feet tall in her knee-high boots and shock of pink-streaked white hair, punk rocker Die's outfit is spiketacular. Dolly Deadline comes with a microphone and TV camera and has that helmet hair de rigueur with female news anchors.
It's safe to say that I've got an embarrassment of britches.
We spent this past Halloween in Death Valley, our favorite escape from the more foul and frustrating aspects of life investigating environmental hazards. Denise Anne and I cherish this strange and wondrous land that we fell in love with three years ago and have returned many times since.
It just so happened that this All Hallows Eve was also a milestone for our peculiar paradise – it was the 15th anniversary of the California Desert Protection Act being signed into law, establishing Death Valley and Joshua Tree as national parks and creating the Mojave National Preserve. The bill, sponsored by senators Diane Feinstein and Barbara Boxer and signed by President Bill Clinton, was the largest parks and wilderness legislation in the lower 48 states, affecting nearly 9.2 million acres of California desert.
Death Valley is the lowest, hottest, and driest place in North America – and quite possibly the most beautiful. It's hard to do better than the National Park Service's description of the park as "a superlative desert of streaming sand dunes, snow-capped mountains, multicolored rock layers, water-fluted canyons and 3 million acres of wilderness. Home to the Timbisha Shoshone and to plants and animals unique to the harshest desert."
It's simply another world for me, Denise Anne, and her many bad girls.
Darkness reigns in Death Valley. She speaks tenderly of her scorched domain:
"Here harkens eternity. Here, you may be assured that whatever ill fate should befall your species – famine, disease, economic collapse, rioting, war, nuclear disaster, climate change, earthquakes, floods, fire, volcanic eruptions, coronal mass ejections – but I go on – this land will remain, perhaps becoming even more achingly beautiful.

"Gaze upon miles of saline jewels that lie abandoned by a dehydrated prehistoric lake. Witness the monstrous mountains born of tectonic clash and striped with volcanic ash. Behold the wind, ice and rain sculpted stones bound together by searing molten heat. Regard the breath-taking alluvial fans descending from the erosion of rocks on high, flowing steady like water that never comes. Such glorious misery."
But despite Darkness's fatalistic attitude toward the planet, she is determined to defend it. "Woe to those who would dare poison this sacred realm!" she declares. "For we have come!"
Darkness's half-empty glass can lead to a world full of adventure. Not on the first leg of this journey, however, when my companion is a bit more sporting.
Dawn Wilde, a patriotic rock and roller who hails from the Mojave town of Trona and lives in an American flag-painted trailer, is a natural for any stretch of desert as long as it's headed for a good time (see "Dawn in Desert Wonderland" and "Hell's Belles.")
We make a customary stop on Dawn Road off of California State Route 14 outside of Rosamond, 58 miles north of Los Angeles.
"You know why they named this road after me and put it way out here in the middle of nowhere," Dawn said swinging around the Dawn Road sign poll. "Because it'd be too dangerous to have it in town, with all the fellahs watching me and such, that's what." She had that right. We had our customary tailgate party and were on our way.
'I Envy the Dead'

While the fastest route to Death Valley would take us through Trona, we opted to continue on U.S. Highway 395 and save that special treat for the way back. Our destination was Lone Pine, where we were chasing part of a long investigation that is about, in great part, water. And what better place to talk to locals about water in Southern California than Lone Pine.
Lone Pine is a small picturesque town in the heart of the Owens Valley, at the foot of the majestic Sierra Mountains and adjacent to the strange and otherworldly Alabama Hills. The town's economy is largely based on tourism since it's near several major attractions including Mount Whitney, Death Valley National Park, Sequoia National Park, Mammoth Mountain, and Yosemite National Park.
Lone Pine is also Los Angeles Department of Water and Power territory. The largest utility in the country owns 25% of the Owens Valley floor. DWP's presence in Owens Valley was crucial to the development of Los Angeles but not so good for Lone Pine and the valley.
LA grew on eastern Sierra water with the acquisition of water rights and taking control of Owens and Mono lakes. William Mulholland, who built the aqueduct to bring the water to the city in the early part of last century, began a series of water department schemes and blunders which has left scars in relations between Los Angeles and Lone Pine to this day.
Mulholland bribed and bought enough water rights in Owens Valley that by 1905 he could begin building the aqueduct to Los Angeles. When it opened eight years later, DWP ordered homesteaders to only use what little water they had left for drinking and not for irrigation. By 1928, 100 square miles of Owens Lake was drained dry precipitating the California Water Wars which had farmers dynamiting the aqueduct.
This so incensed Mulholland that he supposedly said that he "half-regretted the demise of so many of the valley's orchard trees, because now there were no longer enough trees to hang all the troublemakers who live there."
Mulholland ended up dying a broken man as I wrote about in "I Envy the Dead." A dam built by Mulholland collapsed near Santa Clarita soon after the architect had assured that the dam was safe in a storm pounding the Southland. It wasn't. When the St. Francis Dam gave way, a wall of water 78 feet high came roaring down the canyon killing hundreds as 12 billion gallons flooded through Ventura County to the ocean.
Only the San Francisco Earthquake of 1906 was deadlier in the state's history. The scandalous story behind DWP's early days is the basis for the classic 1974 film "Chinatown" starring Jack Nicholson.
But what about the DWP nowadays? With a $4.19 billion budget, and the department's oft-times dubious history, there would seem to be no end of stories about the DWP.
DWP is spending hundreds of millions refilling Owens Lake to cut down on the dust that has plagued the region for decades making its air the worst in the nation. LA Weekly's Jeffrey Anderson, in late 2005, interviewed whistleblower DWP workers in the area and revealed that the $103 million Owens Lake Dust Mitigation Project had ballooned to $400 million. Now that figure is $500 million. The paper also revealed "contingency clauses that allow DWP contractors to revise projects by up to 25 percent of the price."
Hundreds of millions of taxpayer dollars are being used to remediate the lake by a water department ever thirstier for dwindling supplies in the area. When a DWP commissioner conceded to me recently that "we're ripping them off," it made even more sense to have a gander about around Lone Pine to flesh out but a few leads for one aspect of our larger investigation.
Denise Anne and I hit pay water when we noticed a parking lot full of DWP vehicles at the Portal Motel Annex. We found more workers across the "lake" in a grim little town called Keeler, population 66, and interesting conversations ensued.
Lone Pine Lives

This was our first visit to Lone Pine, and we found the town and residents quite hospitable. A ranger named Steve at Diaz Lake exuded passion for the area and brimmed with excitement when we told him it was our first time. He gave us his only copy of a hand drawn map of the Alabama Hills, and when we apologized for asking so many questions, and he said, "Are you kidding? I love turning people on to adventure here. I live for this!"
Our campground host at the stunningly gorgeous Tuttlecreek Campground was also full of cheer. When we asked him for a battery jump, he laughed and pointed at Denise Anne, exclaiming that the car trouble "Must have been her fault – too much rock and roll!" We presume (and hope) he was referring to the AC/DC blasting out of our campsite the previous day.
But perhaps our best insight to the town of Lone Pine came from our experience in a hiking and rock-climbing gear store called, "Elevation." Denise Anne was looking for hats and was thrilled with its eclectic selections. Gone was the rugged camper of the night before as she instantly morphed into an LA fashionista reminiscent of Dot, a prissy spoiled rich girl that hails from Brentwood. "This is like, hat heaven!" she cried, poring over winter caps of all colors and styles.
I chatted with a young man named Myles who worked at the store while she tried on hat after hat. He was a dedicated climber who made the rounds from his hometown in Carlsbad to Yosemite, Lone Pine, and Joshua Tree.
I asked Myles what he thought of Lone Pine and he answered with a story. He said that one day he returned from climbing to find all his gear had been stolen — items he'd collected over many years, and expensive ones at that. When word of his situation spread through the town, residents began giving him pieces of their own climbing equipment until he had more than he could use. When he told them he had enough, town folk just asked him to pass the gear on to someone else who needed it.
Myles also told us about a community garden he enjoyed, and a special historical dwelling up Tuttle Creek referred to as "the Ashram" that many feel has a strong spiritual presence. His affection for Lone Pine was clear, as was his commitment to his job. He was concerned that passersby might not know how extensive their merchandise was, and we brainstormed with him ways to improve the window display and help business. Denise Anne restrained herself to just two caps and vowed to come back for more.

Unfortunately DWP actions of late may place the fate of Lone Pine and other Owens Valley businesses in jeopardy. Residents were angered earlier this year by the department's scheme of quietly buying up 100 acres of rarely-for sale private property, which locals believe is needed to maintain their communities' economic viability.
In an effort to secure permanent and exclusive water rights, DWP is purchasing prime river frontages and property along Highway 395, the main drag in Olancha, Lone Pine, Independence, and Big Pine, knocking down buildings and leaving empty lots. Residents contend that the mega-utility should compensate for the loss of private land by releasing an equal amount of its property elsewhere. In fact in 1997 there was an agreement the department to relinquish 75 acres, but it hasn't helped much since DWP sets bids far above market value.
But not all DWP news is bad news, even with intersections collapsing from the department's broken water mains across Los Angeles and the Valley, including one that nearly swallowed a fire engine on Coldwater Canyon. One idea that seems to make sense is to cover parts of Owens Lake with solar panels to cut dust, generate power, and reduce water use remediating the lake.
Dust or no dust it was hard to tear ourselves away from Lone Pine, but Darkness was calling. We bid farewell to the friendly town and snow-capped peaks of Mount Whitney and headed East over the Inyo Mountains, through the Panamint Valley, and over the Panamint range into the land that we love.
Orders from Above
It was evening when we arrived in the park, and the desert sky was filled with a stunning array of celestial bodies that always take us by surprise. With the star field's endless expanse halted only by the silhouettes of the surrounding mountain ranges, the sensation of really being on a planet takes hold. Last year a ranger at the park's visitor center taught us how to identify the International Space Station, and we were able to spot it passing over our heads during an evening hike in the Mesquite Sand Dunes.
Denise Anne is always searching the skies for objects that seem a little…unusual, especially in Death Valley. While it's fairly common to see fighter jets from the nearby China Lake Naval Air Weapons Station, she's not-so-secretly hoping to see something else. Experimental aircraft from Nellis Air Force Base and Area 51, a mere hundred miles away, perhaps…or friendly visitors from another planet.
When I hear the staccato cadence of D-bot's voice, I know one has arrived.
"Do not be afraid, Earth Man," she uttered.
I turned to see an android with a skin-tight metallic space uniform, short spiky silvery hair, and an asteroid that was out of this world.
Afraid? No, not exactly. I'd seen her kind before. My last close encounter with this alluring alien took place in the Trona Pinnacles, a bizarre landscape in the dry Searles Lake basin consisting of over 500 tufa spires. The area has served as a film location for many sci-fi movies, though the town of Trona is arguably stranger – but that's another story.
D-bot's interest in the area may have more to do with the fact Searles Dry Lake contains an astonishing 98 of the 104 known naturally occurring chemical elements, which she needs to buff that metallic skin to a blinding sheen. She also uses the area for target practice, as the tufa spires remind her of former enemies she's blasted with her mighty laser-gun.
I was trying to talk her out of vaporizing an off-roader that annoyed her when an F-16 swooped down and showed off for us. I was afraid she'd take aim at it but she just laughed in that unsettling mechanical way.
"Your military poses no threat to us. But its activities may be toxic to your people and planet. You should inform Earthlings of the danger."
I had my orders, and as I have written before (see Sputnikfest), D-bot gets what she wants.
Standing next to her now at the Mesquite Springs campground, I sensed she had something specific in mind. The campground is one of the park's most remote, located in the northeastern park near the Cottonwood Mountains. A bluff overlooking the dry riverbed, Death Valley Creek, looked more like an airstrip in the blue moonlight, and I recalled that the nearby Ubehebe volcanic crater always seemed more like a high impact zone to me, from a meteor or …
"No, we did not land here or at Ubehebe" D-bot said crackling with electricity. "That is from a steam eruption 2,000 years ago. But we are concerned with other craters, ones that your people have made." Pointing east, D-bot told me that radioactive contamination from the Nevada Test site, where at least 928 atomic explosions occurred, may be traveling toward populated areas faster than previously thought possible.
D-bot also reminded me that the ancient aquifer used to water Death Valley is still threatened by the proposed Yucca Mountain nuclear waste repository located east of Death Valley in Nevada. That $100 billion project to store the nation's most radioactive nuclear waste, first ordered by President George W. Bush in 2002, was taken off the table by the Obama Administration this year. The Yucca Mountain site "no longer was viewed as an option for storing reactor waste," Energy Secretary Steven Chu told a Senate hearing March 5, 2009.
That doesn't mean the project's dead, however, as it is still heavily funded and will certainly outlive the current administration. With nuclear regulatory applications pending, the soonest construction could start is 2013. Congress cut the project's 2008 budget from $494 million to $390 million, continuing a downward trend. This money could keep Yucca Mountain on schedule to accept nuclear reactor waste should the political climate change.
That would be bad news for the 140-mile long Death Valley if Yucca Mountain ever leaks radioactivity which numerous experts have contended it would. According to a 1998 report obtained by EnviroReporter.com called "Regional groundwater modeling of the Yucca Mountain site using analytic elements," by the departments of civil engineering at the universities of Nebraska and Minnesota, Death Valley's pristine fresh water supply would be threatened.
Scientists found that the proposed nuclear repository had a groundwater range over 300 miles in size with the aquifer being up to 3 miles thick. "Water that flows under Yucca Mountain discharges at Death Valley," the report says, "And recharge fluxes for the Death Valley regional groundwater flow system."
A groundwater map in the 1992 report "Ground Water at Yucca Mountain: How High Can It Rise?" by the Commission on Geosciences, Environment and Resources, confirms that groundwater goo from Yucca Mountain would flow into the heart of Death Valley at Furnace Creek. This is the site of the area's largest oasis, park headquarters, camp grounds for hundreds of travelers, and the ancestral center of the Timbisha Shoshone homeland.
Too Hot to Handle
The closest I've come to Yucca Mountain was when I was in company of Darla, a kindly cowgirl along for the ride. We made our way to the ghost town of Rhyolite in Nevada just a few miles down the road from a giant "low-level" nuclear waste dump. It was operated by U.S. Ecology from 1962 to 1992 outside the town of Beatty on a plain that connects with Death Valley's eastern border.
The Maryland-based Nuclear Information and Resource Service reports that the dump, 105 northwest of Las Vegas, had detections of "tritium at depths of up to 357 feet below ground and carbon-14 at depths of up to 112 feet below ground in a 1994 study. In 1998, the [U.S. Geologic Service] indicated that a 1997 test found even higher concentrations of these radionuclides in the same area."
NIRS says confirmed reports show that workers took contaminated materials and tools offsite. In 1979, Beatty temporarily shut down the dump because of waste packaging and transportation concerns. Additionally, the U.S. Geologic Survey found radioactive waste containers buried in the arid sands outside the perimeter of the site.
"What are you doing with that little clicking box, City Boy?" Darla asked me in 2008 as I surveyed the dump area with a high tech Geiger counter that has proven useful in numerous investigations. "If you're looking for something hot, you might find it at the bordello in Rhyolite and not here at this dump."
Off to Rhyolite. I had a few silver dollars that were burning a hole in my pocket.
After a lively Western-themed afternoon in the ruins, we decided on taking Titus Canyon on our way back into Death Valley. The 26-mile one-way route begins in the Silver State and ends in the Golden State, dropping down a treacherous dirt road one vertical mile before emerging onto the valley floor. The canyon is stunning, but the white knuckler ride had me sweating bullets.
Darla was cool as a cowgirl. "Well, City Boy, if you drive off the edge, at least we had that little shootout back there in Rhyolite," she said with a grin. "If you ride down this canyon half as good as you did back there, we'll stay in the saddle good as gold."
101 Ways to Die
It's not all fun and dames in Death Valley. The place got its name from one of the pioneers headed west as part of the Gold Rush of 1849. Though only one person in the group actually perished, upon climbing the Panamints and leaving the valley, a man looked back and said, "Goodbye Death Valley" and the name stuck. This has always struck me as odd, as the Panamint Valley isn't exactly a verdant utopia. Maybe he just hadn't looked over the top yet.
It would have taken a lot of moxie to follow in the '49ers' footsteps and I am honored to know a true blood relative of those hardy heroes. Runkle Canyon Radiation Ranger "Toxic Terry" Matheny is in fact the descendant of a Jayhawker, a group of '49ers that also survived the tough trek to the Golden State. That may help explain his tenacity in fighting KB Home over building 461 homes in Runkle Canyon on land that may be contaminated from the nearby Santa Susana Field Laboratory.
Death Valley is definitely dangerous, for a variety of reasons like summer temperatures that often reach over 120 degrees, unsafe abandoned mineshafts, rattlesnakes, treacherous mountain passes, and its sheer size (1.5 times the area of Delaware) making it easy to stray far from help. And forget cell phones, they don't work.
On our first visit, Denise Anne said she wanted to go to one of the ranger programs at the visitor center. I resisted. After all, we came to get away from people, and what could some ranger tell us that we couldn't read about or discover on our own?
"Come on," she insisted. "We have to go. The talk is called '101 Ways to Die in Death Valley.'"
Wanting to stay on her dark side, I obliged and sure wasn't disappointed. We learned that the number one cause of death in the valley is single-car roll over. Without trees and buildings to help drivers assess their speed, folks can get mesmerized by the expanses and lose control of their vehicles.
The story of the full gasoline tanker losing its breaks down the incline from Beatty to Furnace Creek had an explosive and tragic ending.
"Told you," Denise Anne said, hitting my leg. "I feel for that poor fellow, though."
Heat stroke is next on the list of ways to make the Death Valley list. Apparently people don't realize how important it is to hydrate before hiking, and by the time they are in danger they may be too delirious to realize they have water, and it might be too late to help anyway.
We heard a particularly gruesome story about a young man who tried to hike across the salt flats in the summertime. Like many of the valley's victims, he was found with plenty of water in his backpack.
The ranger said they initially had troubling identifying this poor soul, as his concerned relatives had described him as Caucasian, but when they found his body he had roasted to a deep mahogany. The corpse was the size of a suitcase.
Another fascinating thing we learned is that "DVDs" – Death Valley Dead in campground slang – are often found nude, not necessarily because they were trying to cool down but because they hallucinate that they are wading in water and try to "swim" to safety. Grim indeed.
There is water in Death Valley's underground springs, but its lack of surface water and less than 2 inches of rain per year make it the driest place in North America. Last year, Xanterra Parks & Resorts put all the sunshine to good use by installing one of the largest solar energy systems in the United States, with 5,740 solar panels that cover five acres, to help power the park's resort and other facilities. The National Park Service awarded the new solar facility its 2008 Environmental Achievement Award.
There is a viewing platform over this sea of solar panels surrounded by palm trees in the lush oasis that is Furnace Creek. Denise Anne and I were impressed by the brilliance of the field of suns, literally. I suggested that she could do a sun girl and name her Deity.
"That's a hot idea," she smiled sinking her teeth into the picnic spread we had brought. "You will worship me."
The park's colors inspire worship as the heavenly 2009 "Living Death Valley" video shows. Without vegetation, splashes of pink, purple, green and blue minerals color the rocks, especially around Desolation Canyon and Artists Drive. Other canyons such as Mosaic, Titus, or Falls Canyon contain walls of sheer marble and granite. Walking through their multi-layered narrows is like walking through time, giving one a distinct perspective on how truly short our lives are.
Wild, Wild Life
Despite Death Valley's harsh environment, the park is home to diverse wildlife and plants. Big horn sheep and ibex roam in the mountains, while kit fox, jackrabbits, and roadrunners roam below. On this trip, we also witnessed bats, a tarantula, and the clear impression of a sidewinder snake. These rattlesnakes are venomous pit vipers. Perfect for Halloween.
The raven is by far our favorite desert creature – they mate for life. These highly intelligent birds rule in Death Valley, and they know it. They greet us each morning when we stay at Stovepipe Wells village, claim their space on the railing, and go about their business which often involves grooming their partner but a few feet away.
Some of Death Valley's wildlife is not found anywhere else. I came upon one such strange creature by Salt Creek south of Stovepipe Wells. This is where the rare Death Valley pupfish have survived since Lake Manly, nearly 100 miles long and 600 feet deep, dried up at the end of the last ice age.
That's not all I came upon.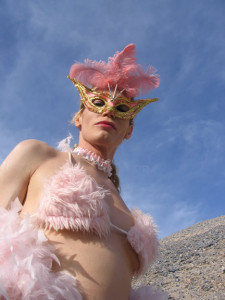 Desert Rose caught me by surprise in a canyon close to the creek. She was a statuesque being, adorned in a pink fur riding outfit with elaborate masks and headdresses that make her look like a desert goddess. She looked like she needed a good trot on the tundra.
Pulling up, she looked at me longingly. Desert Rose doesn't speak, but who needs words when pacing the badlands of this fanciful land? I knew what she wanted; the Racetrack Playa called out to her from over the mountains.
The Racetrack is at the end of 28 miles of bad road and Desert Rose hasn't been there yet. She is chomping at the bit to get a chance to gallop across the mysterious playa where stones move across the surface carving channels hundreds of yards long.
The mystery of Racetrack's moving stones seems to have been solved but that hasn't dampened Desert Rose's high spirits. She wants to race across the playa. I'm betting she comes in first.
I won't be coming at all, though, if I don't secure us a Road Warrior-type vehicle to get out to the Racetrack. The roads are treacherous. That's par for the course in Death Valley.
Heart of Darkness
Our first day in the valley greeted us with a dust storm that lashed the land with 60 mile per hour winds as Darkness and I navigated our way south. Thousand foot-high walls of sand blew across the basin blotting out the blue skies above. Tumbleweeds and dust devils blew across Highway 190 as Darkness and I made our way through the Devil's Cornfield.
As we descended below sea level to visit our favorite haunts, the dust storm cleared a bit.
We walked through a blazing white canyon covered in fantastic carpets of salt crystals sparkling under a clearing sky. Next, we strolled through Darkness' Rock Garden, a surreal expanse of volcanic boulders that somehow landed ages ago next to the salt flats. We then drove down to Mormon Point at the southern end of the massive salt plain where the salt is the thickest at over 9,000 feet deep. This is where, like a bat, the winged Goth goddess clings to the cliff's side.
Returning north, Darkness and I descended from the Dúath of Darkness and made our way onto the salt.
"Life as we know it is coming to an end," Darkness said gazing far across the shattered salt. "We must make decisions about how we spend our days."
Normally I would shun such morbidity, but I desperately wanted a taste of her wind-whipped world.
"Whadaya doin' tonight?" I asked suggestively. "I could help you lighten up."
Darkness turned swiftly and stared into my soul.
"Do not disparage my words! I would that it were not so, but the wretched writing is on the wall."
I started to resign myself to her doom when she continued, "Do not despair. This most astonishing and miraculous land will survive, and our love is eternal. With this knowledge we shall battle on."
She moved in closer and with a sinister smile added, "Let's give 'em Hell."