Recent articles in the Ventura County Star and the Simi Valley Acorn, and comments by City of Simi Valley officials, have misrepresented the pollution problems in Runkle Canyon and our role in reporting them. In order to correct the record, and to continue to provide the citizens of the Simi and San Fernando valleys the best news coverage regarding Runkle Canyon, EnviroReporter.com has provided following analysis of the actual pollution findings, erroneous media coverage and comments by Simi Valley officials.
The Pat-Chem Laboratories Runkle Canyon report
The Pat-Chem test did not cost $3,000, or $4,000, as "reported" by the Simi Valley Acorn and the Ventura County Star. The "Radiation Rangers" article, published in Los Angeles CityBeat/ValleyBeat June 21, 2007, stated that the services were worth nearly $3,000. Pat-Chem generously provided testing that was above and beyond what the citizens paid for because there was a mix-up in the amount of testing ordered and the pricing of that testing, which Pat-Chem graciously covered.
Michael Collins ordered the testing and was the recipient of the report at the citizens' request, as he has extensive knowledge of the various substances that were tested for and their toxicity. The Reverend John Southwick subsequently received the testing results from Collins. The Radiation Rangers had full knowledge of these tests from the moment Collins received them and Southwick has had a copy of the tests prior to its full release July 6, 2007.
Collins posted only the two pertinent pages of the testing report which indicated high levels of arsenic, nickel and vanadium. (It is important to note that these tests did not sample or test for radionuclides such as leukemia-causing Strontium-90 that have been found elsewhere in Runkle Canyon.)
As Southwick told the Acorn in a July 6, 2007 article, the residents wanted to hold back some of the test's results "to get the city to go out and do its own testing. We knew that if we didn't divulge the other pages, if we only gave them two pages of the original testing, we knew that would make them want to test. And that's exactly what they've done."
Linked here is the full Pat-Chem test results, results that led Collins to report in Los Angeles CityBeat/ValleyBeat that:
Runkle Canyon's surface water readings for arsenic are 15 times the MCL for drinking water, over 21,000 times the EPA's "preliminary remediation goal" and 37,500 times the agency's "public health goal" for potable water.
The mud sample was laced with arsenic as well, coming in at over 548 times the EPA's preliminary remediation goal for the contaminant in soil. That amount of the toxin is also 213 percent of the Department of Toxic Substances Control (DTSC) arsenic "field action level," where further investigation is warranted.
"The Radiation Rangers" cover story also reported a number of other facts that seem to have been forgotten in the blizzard of hooey surrounding our coverage of the Pat-Chem report and the "melting" gloves. Those facts include analyzing suspect California Department of Health Services (CDHS) answers to the questions posed by the Radiation Rangers:
CDHS states twice in its answers to citizens that there is only one sample known of elevated Sr-90 ever found on the Brandeis-Bardin property. Actually, there are 25 Brandeis-Bardin soil samples with elevated Sr-90 according to a Rocketdyne-funded study, the 535-page 1995 McLaren/Hart report, "Additional Soil and Water Sampling – The Brandeis-Bardin Institute and Santa Monica Mountains Conservancy." The report also noted two hot water samples with Sr-90 on the Jewish camp property.
Additionally, CDHS stated in their responses that in a November 8, 2006 CDHS analysis that the chance of dying from Runkle Canyon Sr-90 was 0.00045 in a million. That analysis seems flawed: DHS took the "risk-based" number of possible deaths, about 5 per million, converted it into a "dose-based" number and then back again to a risk-based result to come up with 0.00045 out of a million. This scientific slight of hand ends up with a result 10,774 times lower than what the department said the figure was to begin with.
Recent Ventura County Star and Simi Valley Acorn coverage
Ventura County Star:
The July 3, 2007 Star article by Anna Bakalis entitled "County group tests Runkle Canyon toxicity – Residents concerned over former Field Lab site," has in its online edition a completely inaccurate map of the Runkle Canyon/Rocketdyne area. The map makes it appear that Runkle is quite a distance away from Rocketdyne, when it is not, and that the Santa Monica Mountains National Recreation Area doesn't border the huge lab when, in fact, it does. The map also shows a big chunk of the eastern part of the lab missing when, indeed, that 'notched' area on Rocketdyne's eastern border is much smaller.
Bakalis goes on to write that "The residents said a rubber glove used in sampling the water bubbled up and melted away before their eyes, raising a fear that cancer-causing chemicals are in the water and the soil," which is false and not supported by any of our reportage. We reported that the goo in Runkle Canyon water bubbled upon chemical rated gloves, as further addressed below.
Bakalis wrote "The residents' group funded the recent $3,000 soil and water test of certain parts of the property. The results found high levels of arsenic, nickel, copper and other metals, according to the group." This is wrong in both sentences – the residents had $3,000 worth of testing done and high levels of copper were not found. However high amounts of vanadium were.
Bakalis blows it again: "The report was sent directly from the lab to a reporter at the CityBeat Web site, based in Los Angeles, and residents said they never received a copy. A request by The Star for the residents' full report was also unsuccessful because group members said they did not have a copy of the full document." The report was not sent to a reporter at the CityBeat website; it was sent to Collins at EnviroReporter.com. Rev. Southwick received the full report because he paid for it as did Coryell. The group not only received the pertinent two pages of the report but a six-page analysis of the Title 22 metals found at very high levels in Runkle Canyon water and soil.
Anna Bakalis is no stranger to inaccurate reporting. In an October 6, 2006 article for the Star, her article title alone contains two major errors. "Test lab linked to cancers – Study blames Santa Susana site for 260 cases in 60 square miles," is wrong in that the study actually said that 260 to 1,800 people within a 62-mile radius contracted cancer from the 1959 partial meltdown of a Rocketdyne reactor. That's 195 square miles not 60. The article itself contains more errors.
Simi Valley Acorn:
On June 29, 2007, the paper's editor Kyle Jorrey wrote "Mayor wants to see alleged Runkle Canyon contamination for himself – Residents say lab test done on creek water showed signs of arsenic" which incorrectly reports that the residents paid "around $4,000" for the testing. The next week's article, "City, KB Home obtain water, soil samples from Runkle Canyon sites – Lab results expected within 10 days" had Jorrey writing it cost $3,000. Both articles are wrong as stated earlier.
Jorrey reports in the first article that Mayor Miller told KB Home and Lennar to "halt grading in the canyon in October 2006" when, in fact, there wasn't any grading taking place. KB Home needs to acquire grading permits before any earth-moving occurs. The Mayor simply slowed this process in order to investigate the pollution problems in Runkle Canyon.
In the second article, Jorrey makes the mistake of copying Bakalis' erroneous reporting that high levels of copper were found in Runkle Canyon. The third heavy metal, after arsenic and nickel, was vanadium.
The second article also contained this falsehood: "… Matheney's assertions that the glove he had used to take samples eventually melted from a chemical reaction." Matheney never asserted that. He described how when he first saw the liquid from Runkle Canyon creek water began bubbling on his chemically-rated gloves, it alarmed him and he took them off.
Right after this, Jorrey quotes the Mayor: "Well, I put that rubber glove in the water and it didn't melt," Miller said. "And we have retained that glove in a plastic bag to see if it ever will melt." This is where grossly inaccurate journalism aggravates an already exasperating situation — the Star wrote three days before the second Acorn article that all the residents saw a glove melt, Mayor Miller read it and then dropped a glove in a bag to see if it would melt. His simplistic notion and condescending attitude is astonishing.
Mayor and City Council statements
Jorrey writes "Miller and Williamson also noted an abundance of insect and plant life near the locations tested, which KB Home said are located south of the site where the firm plans to build houses. "We saw lots of bees, butterflies . . . I would think if there was something really toxic in the ground we wouldn't see that." That statement is ludicrous and betrays ignorance regarding the very basics of environmental science.
Council Member Barbra Williamson helps bring the article to a close with this: "Williamson said she was also struck by the residents' refusal. They say the complete report is in the hands of Los Angeles City Beat reporter Michael Collins. "They're not coming forward and giving us the documentation we've been asking for," she said. "That can only go so far.'" But the citizens paid for the testing – not the City. These "Radiation Rangers" have pleaded with the City repeatedly to come and test the water, but they never did. It is disingenuous for the City to subsequently act like they are entitled to the residents' report.
The Gloves
As was reported by Collins in CityBeat's "The Radiation Rangers," we don't know what caused the water to bubble on Matheney's gloves. But we do know what it looked like as the photos below attest. We understand why we wrote this in the article: "I don't think we've seen numbers that high but we're not qualified to say if it's natural or unnatural," said one Pet-Chem employee who asked to remain anonymous. "That's the hardest goddamn water in your life. It's a little bizarre. I would hope not too many people would touch that water."
As Southwick jokes, "Your gloves didn't bubble, but you've still got trouble." The Radiation Rangers' full Pat-Chem report on Runkle Canyon hazardous metals seems to bear that out as does repeatedly high radiation readings in and around Runkle Canyon.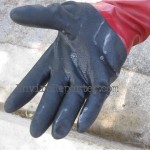 EnviroReporter.com
Michael Collins is a multi-awarding-winning investigative journalist who specializes in environmental issues. Since January 2004, Collins has been a Director of the Los Angeles Press Club and the Chair of its Judging Subcommittee. On June 16, 2007, Collins was awarded Journalist of the Year – Print Under 100,000 Circulation honors at the 49th Southern California Journalism Awards for his work for Los Angeles CityBeat & ValleyBeat newspapers. Part of the work submitted to this awards competition included reporting on Runkle Canyon.
EnviroReporter.com also won First Place at the same awards competition for Online News, Story, Feature, Series or Package and Second Place for Designer of the Year – Print or Online, as well as Second Place for Online Design and Layout.
Los Angeles CityBeat/ValleyBeat broke this story March 10, 2005 with the cover story "Neighborhood Threat – Runkle Canyon is poised to be Simi Valley's newest neighborhood. But did the city misinterpret the risk of radioactive material in the ground?" We have written a number of follow-up articles that can be found at our Runkle Canyon Investigation page.
24 Years of Award-Winning SSFL/Rocketdyne Reporting
June 1998 – June 2022