(Click on images for full size photographs)
EnviroReporter.com's comments to DTSC on the OB/OD closure
DEPLETED URANIUM
One of the most puzzling aspects to the extensive remediation of the Open Burn/Open Demolition area was that the subcontractors hired by Aerojet did not test for depleted uranium (DU) contamination. Aerojet Chino Hills was one of the largest developers and producers of DU ordnance and there is evidence it was tested and/or disposed of in the OB/OP area. The Department of Toxic Substances Control, which oversees remediation of the entire 800-acre Aerojet facility so it is cleaned up to unrestricted, residential standards, has repeatedly signed off on the notion that there is no DU contamination at the site though the evidence, below, seems to suggest otherwise.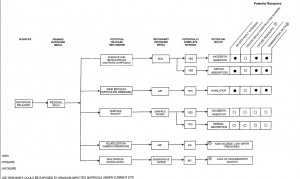 EnviroReporter.com has analyzed the one DU reports on DTSC's Aerojet website and the results were astonishingly high for the radioactive heavy metal and includes evidence that DU is getting offsite through water runoff. Yet the March 2003 "Revised Preliminary Endangerment Assessment For Uranium Chemical Toxicity" report by Aerojet contractor Geomatrix says that "the maximum soil, surface water, and subsurface water results Irom DTSC requested sampling demonstrate that current uranium concentrations do not pose a hazard to human health or the environment Geomatrix recommends assigning a "no further action" status to uranium toxicity at the Facility."
DTSC concurred and approved the depleted uranium health risk assessment in September 2004. The department took this step even though the document says that the public would be able to comment on the assessment. No evidence exists on the DTSC website that any such public comment occurred.
Despite the dearth of documentation of DU contamination at the facility, the following two tables reveal results that are most troubling especially considering that this DU is getting offsite into a tributary of the Santa Ana River which is used for drinking water for millions of people in Orange County.
"A person can be exposed to uranium (or its radioactive daughters such as radon) by inhaling dust in air or by ingesting contaminated water and food," reads the extensive Wikipedia information on uranium, 99.284% of which is made up of the isotope uranium-238, which is what depleted uranium consists of. "However, soluble uranium compounds tend to quickly pass through the body whereas insoluble uranium compounds, especially when ingested via dust into the lungs, pose a more serious exposure hazard. After entering the bloodstream, the absorbed uranium tends to bioaccumulate and stay for many years in bone tissue because of uranium's affinity for phosphates."
"Normal functioning of the kidney, brain, liver, heart, and other systems can be affected by uranium exposure, because, in addition to being weakly radioactive, uranium is a toxic metal. Uranium is also a reproductive toxicant."
EnviroReporter.com has crunched the data from the two tables above and these are the results:
Table 5: Subsurface:
Upper A-12 Test Area: 0.404 mg/l = 0.404 ppm = 4,040.0 ppb = 4,040.0 x 0.86 = 3,474.4 pCi/L
3,474.4/20 = 173.72 times U.S. EPA drinking water limit
3,474.4/30 = 115. 81 times U.S. EPA Maximum Contaminant Level
3,474.4/0.430 = 8,080 times States Office of Environmental Health Hazard Assessment Public Health Goal
Table 6: Surface:
Creek Tributary ["WG-01-17"]: 0.0885 mg/l = 0.0885 ppm = 885 ppb x 0.86 = 761.1 pCi/L
761.1/20 = 38.055 times U.S. EPA drinking water limit
761.1/30 = 25.37 times U.S. EPA Maximum Contaminant Level
761.1/0.430 = 1,770 times California's Office of Environmental Health Hazard Assessment Public Health Goal
So why does this matter? Because this uranium-polluted water should be protected under the federal Clean Water Act as well as numerous state and regional laws as it impacts "source water" for a water body used for drinking water: the Santa Ana River.


"That water eventually ends up in a creek that goes . . . into the Santa Ana River," said Christine Brown, DTSC's Corrective Action Lead for Aerojet Chino Hills in an Orange County Weekly cover story we wrote entitled "Russians, Rockets and the Santa Ana River" on May 18, 2000.
Even an October 17, 2000 report on the DTSC's website confirms where this surface water, contaminated with depleted uranium, ends up. "Surface Water Rainfall runoff from the central 01 southern portion of the Facility (covering approximately 80% of the Facility) drains toward the west into Soquel Canyon," reads the NOTICE OF DECISION FOR APPROVAL OF CORRECTIVE MEASURES FOR THE AEROJET ORDNANCE – CHINO HILLS FACILITY. "Surface water runoff within Soquel Canyon accumulates in Lake Aerohead Lake Aerohead, located within the Facility, is used for the detention of rainwater runoff only and is commonly dry. An intermittent stream flows through the canyon toward the west for approximately 5 miles before entering a reservoir behind Carbon Canyon Dam.
"Rainfall runoff from the northern portion of the Facility (covering approximately 20% of the Facility) drains toward the northeast into an unnamed canyon. An ephemeral creek within this unnamed canyon flows northeast for approximately 4 miles where it drains into Lake Los Serranos, a privately owned lake used for runoff control. Overflow from Lake Los Serranos flows another 2 miles where it drains into the Prado Dam Flood Control Basin."
Released Prado Dam water also leads to the Santa Ana River which replenishes the groundwater aquifers Orange County uses for drinking water, an increasingly valuable source of potable water for the county as supplies from the Colorado River and other imported water become more restricted in the ongoing drought.
EnviroReporter.com's May 1, 2009 "Aerojet Chino Hills – OB/OD Closure Comments & Questions" address these issues in great detail and question how DTSC could not recognize that this Aerojet Chino Hills offsite effluent contaminates drinking water downstream and therefore is protected by a multitude of laws, regulations and rules that are meant to keep precious groundwater supplies pure and safe.
Groundwater preservation is just one issue regarding Aerojet's release of contaminated water from the site during rain events: just five miles downstream from the Chino Hills site is Carbon Canyon Regional Park with a stream-supplemented 4-acre lake where park visitors fish the waters for channel cat fish, bass, blue gill and carp.
DATA GAPS
"Kick-Outs" are "unexploded ordnance which is thrust from burn pits when other munitions explode." The center plan below delineates how Quality Control structures itself onsite when it detects anomalies, including unexploded ordnance or UXO. The maps below, left and right, show the vast area where a "Data Gap" exists, meaning Aerojet and DTSC don't have confirmation that the site is safe from explosives.